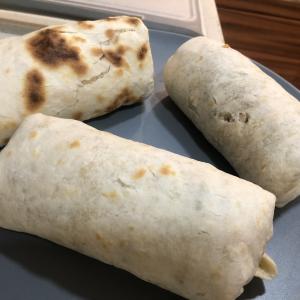 Oh my. I can hear him!
Right now!
The guy who drives through our neighborhood using a bullhorn to announce his one dollar tamales. He's a recent addition to the neighborhood. And we haven't yet taken him up on his offer. I love tamales, but there's a reason they're often called lard sticks. And. Well. I'm so happy to live here…
And. It set me to thinking. One of the delights of living in Long Beach (and specifically here in our Alamitos Beach neighborhood) is the wealth of Mexican restaurants available to us.
A while back the air conditioning technician getting us ready for the summer told us about Enriques, which he said was his personal favorite Mexican restaurant. As a Mexican national we took the recommendation seriously. And it is very good. In fact because it offers a contemporary North American take on some dishes and, they have table cloths, it has jumped up with our Lola's standby favorite for showing off good Mexican food to visitors. Lola's gets the edge, and not just because its walking distance from us. But, Enriques is now on the very short list.
To be clear, these are Mexican American restaurants. We walk in and they put chips and salsa on the table. While I can respect those restauranteurs trying to be totally authentic, I still carry a small grudge against Tu Y Yo in Somerville, Massachusetts. While they offer amazing food in a place where good Mexican is hard to come by, not impossible, but more work; they don't put out chips & salsa. I can get the authentic, but. Here in greater LA a special place for us is Chiguacle Sabor Ancestral de Mexico. Oh, my. Oh, my! And you can get chips & salsa. You have to ask and they charge you. Fair to me.
However.
I'm thinking here in good old Long Beach. And the wonders of where cultures meet… (I originally wrote two. But, no. Something much bigger is happening…)
The other day Jan and I had an itch for a shrimp burrito. Why is hard to say. Neither of us have had a burrito in an age, maybe two, possible even three ages. I kind of think of them as young people's food, mainly young guy food. A boatload of beans and rice and pico de gallo, maybe some guacamole, a dash of sour cream, maybe a sprinkling of cilantro, all served with some kind of protein. Mainly the burrito is about lots of food cheap. Not how we roll, Jan & I, normally, these days.
Although imprinted on our hearts are the wondrous creations found first in San Francisco's Mission district. Fond memories of our salad (and burrito) days in the City in our early years together. And I have to admit my La Cumbre T-shirt has long since passed on to rag Valhalla. (As a footnote, the fast food chain Chipotle is based in the concept of the Mission burrito…) Anyway. As they say, when the spirit says go…
And it was burrito time.
We were driving back from something we had to do in Orange County, and we called into our absolutely favorite Mexican restaurant in Long Beach, Cañada's Grill. Cañadas may not have the cloth tablecloths. But, what they do have is, for us, the best authentic Mexican food going. Of the US accommodation, where even people of Mexican descent expect chips & salsa. I mean seriously good. This is said in the face of steep competition. And while they can make a US style salad, their base customers are people who want a taste of the old country, who number the large majority of their clientele. They're rooted in Jalisco state, and the menu reflects the breadth and depth of that region, an area similar to Texas or California in the US, big culture generator. And so Cañada's sets the standard for Jalisco favorites like carne en su jugo & torta ahogada, along side of, well, the range we expect on this side of the border. Including burritos.
And that takes us to what I'm really thinking about. The burrito.
Why is it, one might ask, in a country based in corn, there's a food that depends on the unique folding qualities of a wheat based tortilla? Well, I can tell you. Thanks, of course, to the google machine…
The burritos is authentically Mexican. Although in Mexico not near as common as here, and not quite the the delight of college kids and construction workers.
No one really knows precisely where the burrito comes from. But there are stories. A favorite is recounted in the Wikipedia article on the burrito. A "man named Juan Méndez who sold tacos at a street stand in the Bella Vista neighborhood of Ciudad Juárez during the Mexican Revolution period (1910–1921), while using a donkey as a transport for himself and his food. To keep the food warm, Méndez wrapped it in large homemade flour tortillas underneath a small tablecloth. As the 'food of the burrito' (i.e., 'food of the little donkey') grew in popularity, 'burrito' was eventually adopted as the name for these large tacos." There are others, as well. Usually they involve Northern Mexican states like Sonora and Chihuahua and some small entrepreneur.
The burrito shares a history with the taco, food wrapped in a tortilla. And there's solid evidence for the tortilla as far back as ten thousand years. But this was corn. And basically you just fold the tortilla and put what you want in it.
The burrito is a tortilla origami, a masterpiece of folding. It requires the flexibility of a wheat tortilla, and usually one that's been heated or steamed to help facilitate the folding. What we know for sure, is that the Spanish brought wheat flour with them. And today flour tortillas are a staple of Northern Mexico. I think it easy to say there's no doubt it's in this region that the burrito was born. We certainly see them there, simpler and smaller than the food we know in the US. But the family resemblance is unmistakable.
The burrito is a sturdy thing and has travelled both north to the United States, where it fattened up, a lot, and south to other parts of Mexico, as well. As far as the US is concerned the burrito probably comes to this country with farm workers in the 1940s and 1950s.
And, as they say, the rest is history…
A very helpful article by Phil Edwards who interviewed Gustavo Arellano, author of Taco USA, and then wrote it up. Arellano (by way of Edwards) says in the middle of the twentieth century "Mexican food quickly found a home in Southern California and, in doing so, it had a channel to influencers and tastemakers in the culture at large. Southern Californian Richard Nixon, for example, brought tacos to the White House and even traveled to get Mexican food in Tijuana after the 1960 election."
In 1956 Duane Roberts invented the frozen burrito. And with that the burrito's conquest of the United States was irreversible.
And so, our shrimp burrito. It was okay. I think shrimp in general is probably too bland to meet the complexities of the standard US burrito. Perhaps, Jan thinks, if the burrito were made with aguachile. An experiment we may try at home before too long…
Anyway. You wondered about the humble burrito? Maybe?
Well, now you know.
You're welcome…