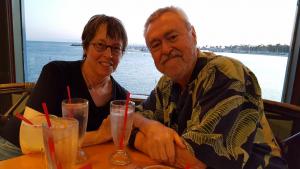 (Being the account of our flight to Pennsylvania and leisurely drive back home to California. Originally posted as entries on Facebook, now gathered together, slightly edited, and with a few photographs, and hotlinks attached for some of the more notable encounters…)
June 15, 2021
We're off on our grand adventure. We are currently winging from Long Beach to Baltimore, where we will get a car and go to Lewisburg for Edward Sanshin Oberholtzer's dharma transmission ceremony. And from there to return home driving across country…
A moderately inauspicious beginning.
We arrived at the airport to learn our flights had been changed up. Roughly the same time frame, the biggest issue is we lost our Southwest A category boarding and were dropped to the bottom of C. This means middle seats all the way. And, of course, not together.
Still. So looking forward to our time together with Karen & Ed. And so glad fo be able to officially acknowledge his work as a Zen priest and teacher, and his life vow to share in the healing of this beautiful and broken world…
June 15 Continued
Our (rescheduled) flight from St Louis to Baltimore was canceled while we were in the air. We've now flying to Milwaukee, where we expect to connect to a flight to Baltimore to arrive two hours later than our originally scheduled. We have no clue where our luggage is going. We hope it has fun…
And as frosting, all flights are middle seats…
June 15 Continued
Passing through Milwaukee airport. Glad cheese head gear remains available…
As we've been wandering from Long Beach to St Louis and now to Milwaukee, and expecting this evening to finally arrive in Baltimore; I've been wondering what our luggage has been doing. Nothing we wouldn't do, I hope…
June 16, 2021
Well this is quite the start to our adventure. We walked into a gigantic morass flying from Long Beach to Baltimore. We arrived at the airport to discover our flights had been rescheduled and instead of going to Denver and then to Baltimore, we were going to St Louis and then to Pittsburg before going to Baltimore.<
As our flight landed we discovered there was going to be no flight to Pittsburg and were rerouted to Milwaukee, where we did catch a flight to Baltimore. All middle seats. No luggage when we arrived, and then a two hour line to learn we will eventually see our luggage, but who knows precisely when.
Leaving a file and some phone numbers we were able to pick up our rental car and make our way to Harrisburg, arriving at our motel at 2:30am local time.
We did not have trouble sleeping.
In the meantime mom has something going on back home. Fortunately her other daughter and daughter in law are on it. But, we're not entirely sure about that and are anxious.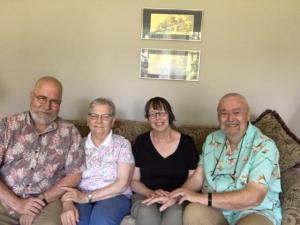 This morning we pick up some underwear, toiletries, and some shirts. Jan had a vest in her carry on, I'm wondering if I'm in need of at least a wind breaker or some such.
Next stop, Lewisburg, PA!
June 17, 2021
We are safely ensconced at Karen & Ed's home in Lewisburg. Remembering all that is lovely about rural(ish) Pennsylvania and small college towns.
As yet we have not heard from Southwest about our wandering luggage. Although it showed us how the purchase of some underwear and toothbrushes can brighten up a day.
On the night of the 17th of June, 2021, I passed on the Zen dharma to Keido Sanshin Osho, Sensei Edward Oberholtzer, resident teacher at the Joseph Priestly Zen Sangha at the Joseph Priestly Chapel in Northumbria, Pennsylvania…
June 18, 2021
Planning on our driving adventure returning home today. Thanks to Tropical Storm Claudette it looks like we will not be passing through New Orleans…
June 20, 2021
Our adventures continue. As we were passing through Knoxville we had a flat tire. As per conteporary conventions the car only had a donut (and the jack was incomplete).
An hour and a half wait on the car misadventure line with Dollar connected us with a wonderful person who arranged for someone to come out and put the donut on, and arranged for us to drive back to the Knoxville Airport and to the Hertz (Hertz owns Dollar) rental, where our car was swapped out for one with four tires.
Speaking of four, the whole thing took four hours. The worst of it was the flat happened just as we were beginning to look for somewhere to eat (google Southern cooking near me). We were lucky enough to find ourselves stranded at a truck stop. Good news: bathrooms. I guess good news: a Subway store. And so dinner ended up a Subway chicken caesar wrap.
In the larger scheme beyond some anxiety during the hour and a half waiting for the next available agent, just another small adventure.
It looks like we've completely avoided Tropical Storm Claudette which is ravaging points to the South of us (and dashing, once again, my fevered dream of visiting New Orelans). Mostly clear skies, just heat and humidity…<
As the wise say, every day is a good day…
A lengthy pause in Nashville to pay homage at the Country Music Hall of Fame & Museum.
June 20 Continued
We are paused in front of Nick's Bar-B-Q & Catfish, about three quarters of the way between Memphis heading toward Little Rock. After last night's Subway's ceasar salad wrap, we are hoping…
(Later. Their speciality is fried cat fish. Emphasis on fried. I decided to go for the smoked chicken. It was quite good. I also loved their turnip greens…)
June 21, 2021
We are now just outside of Little Rock. Tonight, with a bit of luck, we'll be at or near Amarillo. So, the Southern part of our adventure is nearly over.
We weren't able to do our southern southern trip because of Tropical Storm Claudette. Instead we saw a boatload of Virginia, a touch of West Virginia, and Tennessee the long way, and now Arkansas.
I can report it is green. Seriously green. While I preferred the mountainous areas before rolling into the hundred (two hundred? more?) mile wide Mississippi basin, it's all just flat out beautiful.
For flatest out beautiful, I think I have to give the edge to Tennessee. But its all wonderful.
Oh, and hot. Humid hot. All of it.
I noticed among the bewildering variety of fundamentalist and pentecostal churches tiny and humungous and billboards offering messages from scripture, there were also what feels like an uncommon (in my California experience, at least) number of billboards for "adult" superstores offering their wares.
Additionally, there is a lot of Trump signage still up, including a few with the word Pence cut out.
I've really enjoyed the variations of regional dialects. As well as the slightly exaggerated expressions of politeness. A boatload of sir and m'am. Jan and I've fallen easily into those rhythms when talking with people.
Also, to note. When we were in the parking lot waiting for AAA, three different people stopped to inquire about us and to offer help if needed.
Our motel is right next to a Waffle House. Somehow it feels an important sign of respect to eat there this morning. Jan has agreed, although she doesn't seem to feel it is as important as I do…
June 21 Continued
Oh my! Thunderstorms!
June 21 Continued
Dinner at Truck Stop 40 Punjabi Restaurant in Sayre, OK. Really, really good. Although I suspect the yogurt is not vegan. I suspect our cook/counter guy meant everything was vegetarian… An astonishing treat in the middle of meat country…
June 22, 2021
A comfortable night outside of Little Rock, where the motel door was guarded by a cat too lazy to do more than stare at us with disdain. We learned his name is Thomas.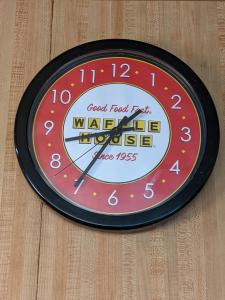 There was a Waffle House and we felt we couldn't leave the south (or even approximate south) without a go. Even when stacked up against an astonishing homemade waffle with fruit made by Karen before we embarked on the drive across country, it was pretty good.
This was to be the super long leg, covering six hundred miles, to Amarillo. Our calendar is a bit tight and we want some New Mexico time.
It was quite the drive. A couple of hours out we ran into a thunder storm rolling East. First it got dark. Then the rain began. It quickly got seriously thick. And we couldn't see a hundred feet in front of us. Everything slowed down. A few vehicles started using their flashers so they could be seen. While it felt like half a day, I think the flat our terror part was about ten minutes. Then there was a serious anxiety part that added in another ten minutes. We came on a rest area and pulled over to wait out the worst of it. Or, the worst of the wave. We had no idea.
When it abated enough we ran into the bathroom area. As we stood in the entrance way reading the big map a good ol boy came up and said, "Hope you enjoy Arkansas…"
The rain never got that bad again. And we proceeded along and out of the storm.
The terrain shifted flatter and flatter.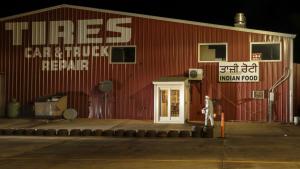 As we were about to cross to Texas we realized space between rest areas was beginning to stretch out, and towns were turning more into a gas station and maybe a store. We began a google search for food. We discovered an Indian restaurant named "Truck Stop 40 Punjabi Restaurant."
As we walked in the door I noticed a small khanda stenciled on the glass.
It was in an extremely run down truck stop, connected to a larger building selling tires. If there was anything other we might have not gone in. The building did not inspire, old, badly in need of paint. Inside there was only a sign for a men's restroom. We had to ask for women's, and Jan was led through a door. I used the men's, which was large. Dingy, but clean.
Every customer (all obviously truckers) and the counter man/cook wore some part of Sikh religious ornament, mostly the bracelet. The counter man also had a beard.
And. The food was amazing. Really, really, good.
Both nourished and pleased, we proceeded back onto the road and crossed into Texas. The dirt was now pretty much flat. Traffic had thinned out. Rest areas became rare. On the side of the road there were more cattle than people, and not all that many of them.
We began to pass through windmill farms.
And, finally, finally, just as the sun was setting, we made it to Amarillo and our motel.
(Later we googled and learned the story of these Punjabi dhabas all along Interstate 40.)
June 22, 2021
New Mexico!
June 23, 2021
I think we've been on our drive across country for about six months now. Oh, wait. No. I guess this is day seven since we flew out from Long Beach toward Baltimore (on our way to Lewisburg, PA).
Yesterday we awoke in Amarillo. While there are modifiers like southwest, or even Texas, it is also very much the west. And there was a certain familiarity to it.<
The plan was a relatively easy three hundred mile jaunt to Albuquerque. And there were no surprises on this leg of the journey.
The most notable thing was being passed by a band from the Chosen Few motor cycle club. Neither of us are into biker culture, but we'd seen them before in California, and noticed many of them were black, and did a little googling. They're the first integrated "outlaw motor cycyle club." So, it was nice seeing them ranging out to the Texas New Mexico border.
We paused in Tucumari for lunch. Nothing to write home about for food. But, we both have a thing for small desert towns and we drove the length of its main street, one of those surviving stretches of old Route 66.
We arrived in Albuquerque at around three.
We checked into a motel and then made our way to visit La Vida Llena, a life care community that we've been looking into.
As I've written in the past Jan & I are tying to figure out what our last leg will look like. We love, love our little condo in Long Beach. And, whatever, we are in LA for as long as we are useful to Jan's mom. For years, we hope.
But, there's what after that. If you follow my Facebook page you know I'm fascinated with Mexico, especially San Miguel de Allende and Ajijic and Ensenada. I follow Kerri Moon's work establishing affordable retirement communities very, very closely.
But, I'm also deeply fascinated with the possibilities of what are sometimes called Type A Continuing Care Residence Communities, or increasingly more commonly simply "Life Care."
The archetype for me is Enso Village put together in collaboration between the San Francisco Zen Center and Kendal, a Quaker based nonprofit that builds and manages Life Care communities. Frankly, Enso Village is beyond our financial reach.
I've spent a lot of time looking for something like Enso but a bit more affordable. Nothing Buddhist is out there, but there are communities with a strong progressive streak to them, and that can be good enough.
At this moment La Vida Llena is the one that seems to match up closest for our needs. It's a nonprofit founded by a coalition of four churches led originally by the local Episcopal cathedral. They are clear about being interfaith. And, we believe we can just squeeze into one their less expensive units.
So, this visit was a major thing for this trip, our first glance at the operation.
We met with Mary, their marketing person. An important preliminary for me was walking through some of the financials, and again, on paper it looks like we could do this. Although not with much wiggle room.
Then we took the tour. It's a big campus with lots of facilities, two pools, several gyms. Lots of recreational stuff. We were told many residents are very active. The campus is right next door to a community college. We talked about inclusivity. They're not so successful with racial/ethnic diversity, although they do have some Bipoc residents. They are much more successful in being welcoming to the LGBTQ community.
The rooms themselves are nice. Other than the fact all the rooms have pull cords for emergencies, and if you don't open your front door by 10am there will be a phone call to check on you, they felt recognizable to people who live in a condo. Every unit has a balcony or a porch.They are very much personalized, people's actual homes, not so much waiting rooms for death. Although, of course, there is that. A lot of them have views of the Sandia mountains. And there are tons of trees and green areas.
The food looks good, with considerable variety. Although they don't seem to fully comprehend vegetarian options as something other than the odd treat. They look to be quick learners. And I suspect as our cohort starts moving in they'll adapt. They definitely are aiming to be welcoming to the Boomer crowd.
One of the things we noticed as we walked down the halls was the rich selection of artwork. We asked about this. The pieces are all donated, mostly by residents, likely from downsizing. And the art is good. There's a resident committee that curates, and apparently there is a lot of resident involvement.
For me as we walked around was noticing there weren't a ton of men relative to women. A thing that happens, of course.
There's much more, but that captures a bit of the gist of it.
Nothing to act on for the next few years. And there are those other possibilities to learn more about. And, if I haven't mentioned it, we do love our condo. The questions hangs, however, how to manage the years ahead with ever increasing needs for assistance.
This morning we will be heading to Flagstaff, one of our favoritest small cities.
June 23 Continued
As to food.
We have some experience of New Mexican cuisine. In Long Beach there's Panxa Cocina. They are very, very good.
So, we were ready to come to the mother of it all. Following the advice of an old friend, Stephen Slottow, a music professor in Texas who frequently visits New Mexico, we chose Tomasita's. Out of that experience I have woven a story about what New Mexican cuisine is.
It's origins are the same as all border foods, in this case the adaptation of Mexican cooking to American tastes. Texas has its versions. California, does, as well. As does New Mexico.
The foundation is dumbed down Mexican. Basically adaptations for people who want something exotic, but not too weird. But then from there, a constant enriching. In this case specifically out of a romance with chilis. And, finally, out of that something unique and wonderful.
We'd experinced the higher end, as it were, at Panxa. Fresh ingredients, expertly and lovingly engaged. New Mexico, the love of chilis, and something to touch the heart.
At Tomasita's I felt we were more basic, still trying to accommodate the dumbing down a bit too much for our tastes. Too much cheese is probably the most infamous of those characteristics. The narrow selection featuring enchiladas, burritos, tacos, and rellenos. The standards of border Mexican. But, also with some more depth, sopaipillas, for instance. And, tamales. And absolutely with a little more creativity in how things were put together. Although then tied together with the ubquitious melted cheese.
Getting to the bad: The tacos were an embarrassment, an insult to the humble and sometimes wonderful.
And. Getting to the good: The tamale was one of the best I've eaten. Food for the gods.
My take away? I'm glad for an experience of the old school New Mexican cooking at Tomasita's. A worthy experience. And a standard of the old school.
And next time we'll look for what's been evolving since, more in the vicinity of what they're doing at Panxa.
June 23, 2021
Arizona!
June 24, 2021
We awoke early. And after completing our ablutions, made ourselves a modest breakfast in the motel, gassed and caffeinated, we were on the road.
Google maps says the drive takes a tad less than five hours. Perhaps because we have small bladders, and have a bit of a tendancy to poke along, we've never met the google map time frame for any leg of this trip.
I truly love the great American southwest. I love the desert (and love it even more when viewing it from within an air conditioned car). And this stretch between Albuquerque and Flagstaff is especially gorgeous. There is nothing like the majesty of a butte except perhaps a string of them rising from the desert floor.
The google machine said there was a Mediterranean restaurant, Oasis, on the Eastern side of the town. It was absolutely amazing, a treat comparable to our discovery of those Punjabi dhabas stretched along route 40. From some of the decor I'm assuming the owner is Palestinian.
We ordered two fattoush salads and a side order (the menu said appetizer) of falafel. The dressing was different than we're used to, didn't seem to have tahini in it. But it was very nice. And, the portion was more than generous. We'll be eating it again for lunch later today. The falafels were among the best we've ever eaten, crispy on the outside and moist in the middle. Writing this the next morning, I notice my mouth salivating.
Nourished we proceeded back on to the road and continued Westward.
Long road. Various bits of signage for Indian oriented kitsch. Although I was gratified to see at least one business proudly note it was Navajo owned.
Along the way we received a message from an old friend. I'd performed her daughter's wedding twenty odd years before. The (in my mind kids, but obviously no longer) were living in Flag and would be happy to buy us a coffee and check in. Reluctantly we declined. We've had several of these invitations along the way, and I cannot say how gratifying it is that we have friends close and less so who woud be willing to adjust their schedules for a little visit.
But we have a hard deadline to be back. Our Zen sangha has an all day zazenkai (Zen meditation meeting for the non Zen reader). We really want to be there. And, truthfully even if we didn't, we'll have been gone ten days and for us and a very annoyed cat back home, that's all we can handle.
Finally we rolled into Flagstaff.
Flagstaff is one of our favorite small cities (or perhaps its a large town) in the whole country. Back when I served the Valley UU Church in Chandler, and I was turning fifty, we had our first intimations there would be a day we would retire. And the very first place we shared any fantasis about a place to retire to, it was Flagstaff.
By not visiting with old friends, we got to see a bit of the town. We stopped at Bookman's, an old, old favorite used bookstore (and record store). And we wandered around the downtown, which had a farmer's market going. There I purchased a three pack of Big Red's Hot Sauce. A Phoenix based African American owned company. It will provide a memory half life to remind me of our revisit to a favorite place on the planet.
Flagstaff has grown a lot. But the imposing San Francisco peaks (the ancestral home of the kachinas) still hover in the background, and the pine forest remains wherever people haven't put a building.
Dinner (driving and eating are the big things for this trip, it appears) was at Salsa Brava, advertised as "among the Food Network's "Top Places to Eat in Flagstaff." Jan had their cochinita pibil and I a quesadilla with smoked chicken. (like smoked chicken…) It was a great example of respect for the tradition and just enough innovation to fit our moment.
Kind of like I hope could be said of my life as a person on the Zen way.
The last question for this trip remains whether we push on to home tonight, or, much more likely (I did mention we poke along), how close to home will we get?
June 25, 2021
After a leisurely coffee (we brought our own and some melitta gear, thanks for asking) and some cereal and a shower we began our last leg toward home.
Well, we weren't certain that it would be. Google claimed a bit better than seven hours. But, we've never kept to that schedule. I think it has to mean driving at the posted speed limit without pausing. And, well…
Our motel was on the east side of Flagstaff and we decided to take surface streets through town and join 40 on the far side. While it clearly isn't the town we knew twenty years ago when we lived in Arizona, one can still very much see the town we knew. It remains charming. I looked it up and housing is surprisingly expensive and there is a lot of poverty. And. The university continues to be a, if not the major employer. There is a signficant arts community. And, of course, the dirt is startlingly beautiful.
Leaving, I felt a trail of memories from years gone by follow like tendrils.
We've been over this stretch of highway a lot. Once, some years back we exited 40 to put wheels on pretty much every bit of what remains of old Highway 66. This time we were ready mostly to head home, beginning to feel like the old cow knowing its time to wander toward the barn.
We paused briefly in Seligman to gas up and drove through the main drag. It's semi-officially the "birthplace of Historic Route 66," because residents led the effort to get the state to create an official "historic Route 66" designation, with signs, etc. It's also the most wonderful of tourist traps. The dozen or so blocks of the downtown are covered with stores decorated with old cars and signage and a general hippie flavor. What can I say, a flashback of sorts.
Maybe twenty or twenty-five miles outside of Kingman we noticed how the clouds had piled up and there was what looked like rain. A couple of minutes more and we were in it. Not the moment of terror in Arkansas, but we slowed down a lot and our windshield wipers were on max. Didn't last long, but I suspected we experienced most of the annual rainfall for that stretch of desert.
As we pulled into a truck stop just outside of Kingman we saw a bunch of bikers. Many wore the colors for "Rare Breed." As we lined up for gas, the biker in front of us was just finishing up. First I noticed the braids hanging from the helmet. And then I reallized the bikers fingernails were powder blue and from her exposed hand that she was African American. As we were gassing up, we notcied that perhaps all of that group were, as well. We also noticed the colors for another club, "Dirty Birds."
Later I looked them up. "Established in 1989 by four police officers and four city workers, Rare Breed strives to promote itself as a positive organization for African-American riders. We were trying to start a club that would be looked at as a brotherhood rather than just a motorcycle club," cofounder K.W. says. "Our thing was to be different, do positive things as far as charities, and create a whole new message out there." Dirty Birds seems to be related to Rare Breed, but just how wasn't clear from a quick google search.
I'm not sure why it tickles me so much that we had passing encounters with two predominantly black motorcycle groups on this trip.
Approaching the border, Bullhead City and Lake Havasu, triggered memories of taking auntie to see London Bridge and a couple's trip with Jan when she attended an Arizona librarian's association meeting out there. That, and a reminder of what hot is. Although in the moment mitigated by the passing storm.
And with that we crossed the Colorado and were in California.
There were a few more scattered sprinkles, but otherwise it was clear sailing. As we apprached Barstow we realized there was no need to pause. And we pressed on.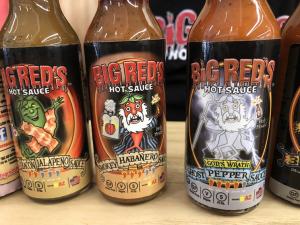 As we crossed the mountains into the greater Los Angeles basen we paused to eat and let the worst of the rush hour traffic abate. Google was not massively helpful, and we ended up eating at an okay Italian chain that we'd not heard of before. We both had their angelhair pasta with artichokes, which was, well, okay.
Nothing to write home about. But, while not the best meal to end on a trip that featured eating, it was, as I said, okay. And with that and the thinner traffic we drove home.
This morning we have to return the car. But for all practical purposes the trip is over.
Memories will continue for some time, and I have yet to process some thoughts and feelings. But, I'm glad we were able to flavor our eggs this morning with Big Red's Smokey Habanero Sauce. Highly recommend it!
Tomorrow an all day meditation sit with our Zen sangha. Sort of desert…
June 25, 2021<
Our rental car has been returned. I guess this means out little adventure is over…<