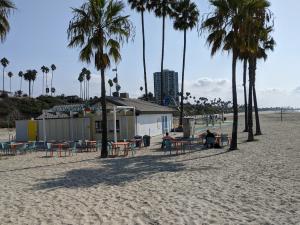 We've been waiting an age for the new concession stands to open up along Long Beach's walking and biking paths. Finally three contracts have been issued, two for five years, Louisiana Charlie's and Grill 'em All. And the third, more important to us as being right in our neighborhood, Saltwater Deck, for three years.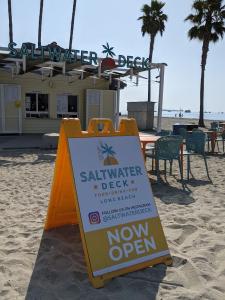 There's still another to come within our walking distance, but right now, I'm over the moon seeing Saltwater Deck has opened. It's located at the part of the walk called Junipero Beach. While it's down on the beach it has an Ocean Blvd address, 2630 E Ocean Blvd.
We haven't eaten there yet, but our most reliable resource, Brian Addison's Facebook page, "Long Beach Food Scene" has provided a couple of first reviews.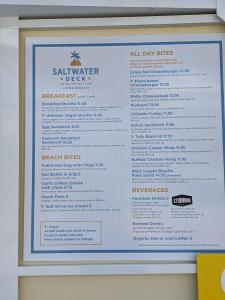 One praised some breakfast offerings, including their egg sandwich and their breakfast burrito. I note from that review a mention of "homemade salsa" as really good and "with a kick." A second review seconded the praise for the breakfast burrito. On another page someone wrote "It's like a healthyish snack shack…"
Brian Addison of said Long Beach Food Scene, tell us, "Saltwater Deck is the first of those—and while its owners Amy and Marvin are keeping it straight-forward with breakfast burritos and sandwiches (that are much better than your typical beach shack fare), they hope to utilize the newly minted and uniquely Long Beach views for chef-driven dinners on the beach and more."
I'm most interested in the sandwich selection which includes what could be a fun take a walk and eat a sandwich under the moon.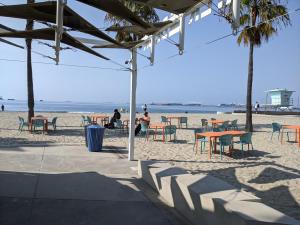 We asked and were told they're open Tuesday through Sunday, 10am until 7pm.
Check them out.
We will…