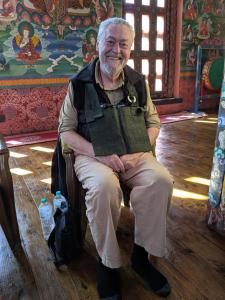 SECOND THURSDAYS WITH JAMES
at the First Unitarian Church of Los Angeles
October through June, 2021, we will be exploring the religions and other related topics that have particularly caught our consulting minister Rev. James Ishmael Ford's imagination over the years.
These conversations are not meant to be comprehensive, but lightly touching some of the world's great traditions. James will be following two principles in these conversations. He says that all religions are false. But, at the same time he finds deep currents also run through each of them.
Come and explore what some of those currents might be.
Free and open to all who can gather in good will.
James is an ordained Soto Zen priest and a koan teacher in the Harada Yasutani Zen lineage. He is also an ordained Unitarian Universalist minister. James is the author of five books on Buddhism and Zen, including If You're Lucky Your Heart Will Break: A Field Notes from a Zen Life and an introduction to Zen meditation Introduction to Zen Koans: Learning the Language of Dragons. He has lectured at Meadville Lombard Unitarian Universalist seminary, Harvard Divinity School, and the University of the West. He currently serves as one of First Unitarian's two consulting ministers.
Time: 7-8:30pm Pacific Standard
This will be a hybrid event
We will meet in-person at First Unitarian Church, masked and maintaining social distance.
And on the church's Zoom FUN channel
Dates and Themes:
October 14th, – BEFORE RELIGION
November 11th – HINDUISM & the Rise of Dharmic Religions
December 8th – BUDDHISM Origins & the Three Schools
January 13th – TAOISM & CONFUCIANISM Also noting the Buddhist Missions
February 10th – ZEN, Or, Buddhism after China
March 10th – JUDAISM & ISLAM (With a quick glance at the Sikh tradition)
April 8th – CHRISTIANITY The First Thousand Years
May 12th – CHRISTIANITY The Second Thousand Years
June 9th – AFTER RELIGIONS
To get an idea of how many people will attend, please sign up.