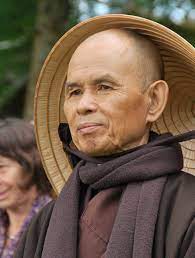 The International Plum Village Community of Engaged Buddhism has announced that today, the 22nd of January, 2022 (in Vietnam) the  beloved teacher Thich Nhat Hanh passed away peacefully at Từ Hiếu Temple in Huế, Vietnam. He was 95.
Nguyễn Xuân Bao was born in Huế in central Vietnam. At sixteen he entered monastic life. His principle teacher was Thanh Quý Chân Thật. He began his studies at Dao Quoc Buddhist Academy in Hue, then in 1961 attended Princeton Theological. Later he lectured at Columbia. This would be the beginning of a life time of public teaching.
On May 1, 1966, at Từ Hiếu Temple, Thich Nhat Hanh received transmission from Master Chân Thật.
During the Vietnam war he emerged as a leader of a third way. He was a co-founder of the Buddhist Peace Fellowship. And he was nominated for a Nobel Prize by Dr Martin Luther King, Jr.
Thay, which means teacher, and how he was addressed by his many admirers, was an effective missionary, establishing lay and monastic communities throughout the West.  He was also a prolific author, writing of co-authoring over a 130 books. He is without question in the West, the second most recognizable Buddhist religious leader after only the Dalai Lama.
In 2014 he suffered a stroke from which he never fully recovered. In 2018 he returned to his home temple in Hue.
And we have learned of his death.
It is probably not possible to assess Thich Nhat Hanh's importance in the establishing of Buddhism in the West, and in particular joining it with social activism.
Endless bows…