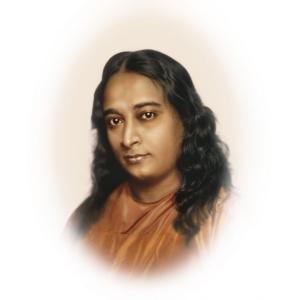 Mukunda Lal Ghosh was born in Forakhpur, in Uttar Pradesh, on this day, the 5th of January, in 1893. The fourth of eight children. His parents were well to do, his father a vice president of the Bengal Nagpur Railway. Because of his father's work the family relocated several times, giving young Mukunda a more urbane sense of India.
A major turning in his life was when he was eleven years old, and his mother died. His heart turned to the spiritual quest. As a youth he took advantage of his father's position in order to travel and see holy sites and visit with various sages and gurus.
As soon as he graduated High School, he entered a monastery. However he didn't feel the fit. Mukunda left and continued seeking until he met Swami Sri Yukteswar Giri, who would become his guru.
From 1910 he spent a decade studying intensely with his teacher. Although he also continued his formal academic studies. Graduating college in 1915, about mid-way in his formal spiritual studies. Once he graduated college he took formal vows as a monastic within the swami order, taking the name Yogananda Giri. In 1917 he established a school which in time would become the Yogoda Satsanga Society of India, the Indian branch of his work as a teacher.
In 1920 Yogananda had a vision calling him to the West. Soon after he received a letter from the American Unitarian Association inviting him as the Indian delegate to an International Congress of Religious Liberals. With the blessing of his teacher as well as through several visions confirming this would be a turning point, he left for America.
After speaking at the congress, he decided to stay in the West. Yogananda embarked upon a lecture circuit, crossing the country. He met prejudice in the South, but generally he was well received. Sometimes more enthusiastically than those words might convey. His message struck a chord in the curious time in the first decades of the Twentieth century. To support this work he established the Self-Realization Fellowship (SRF).
While Swami Vivekananda's visits to the West predate Yoganada's mission, Swami Yogananda was the first to come and to decide to stay, making the West the principal focus of his work. He gathered lay disciples and people entered the monastic order with him. His fondness for and adaptation of Christian language, as well as the usages of the New Thought movement made his rather mainstream Hindu teachings recognizable.
His spiritual life was rich in vision and stories of miraculous events, and his memoir, the Autobiography of a Yogi published in 1946, was an instant best-seller. And it has never gone out of print. Even to this day it is often the first, and if not the first one of the first books people interested in Hindu spirituality are likely to read. While he wrote other books, largely because of the Autobiography the Los Angeles Times would dub Yogananda "the 20th century's first superstar guru."
He died in 1952.
Yogananda's work continues through SRF and several splinter organizations.