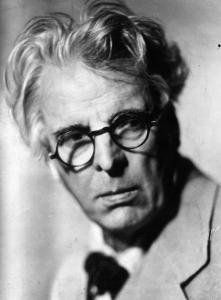 William Buttler Yeats died in Menton, France, on this day, the 28th of January in 1939. His body was interred in France and lay there for nearly a decade before his remains were removed to Ireland.
In his lifetime Yeats was a poet, dramatist, prose writer, generally considered one of the great literary figures of the twentieth century.
As a child Yeats was an indifferent student. Although his poetry began to be noticed from an early age. He attended the Metropolitan School of Art.
The family moved between Ireland and England several times. Accompanying his family to London, in 1890 he joined the Hermetic Order of the Golden Dawn. Yeats was fascinated with mysticism and the occult for the whole of his life, and it affected much of his writing. In 1892 he wrote "the mystical life is the centre of all that I do and all that I think and all that I write." And this seems to have held true for the whole of his life.
Yeats was a member of the Anglo Irish Ascendancy, and a fervent Irish nationalist. With the republic, he was for a time even a senator. In the years running up to the Second World War he flirted seriously with fascism. Best I can tell he preferred authoritarians throughout his life. A fair warning about putting people on pedestals. From that angle the cracks and bad cementing can be embarrassingly obvious.
And the man's writing was transcendent.
In 1923 W B Yeats won the Nobel Prize in Literature, "for his always inspired poetry, which in a highly artistic form gives expression to the spirit of a whole nation."
In the moment, today, I find myself thinking of one of his poems in particular.
Turning and turning in the widening gyre
The falcon cannot hear the falconer;
Things fall apart; the centre cannot hold;
Mere anarchy is loosed upon the world,
The blood-dimmed tide is loosed, and everywhere
The ceremony of innocence is drowned;
The best lack all conviction, while the worst
Are full of passionate intensity.
Surely some revelation is at hand;
Surely the Second Coming is at hand.
The Second Coming! Hardly are those words out
When a vast image out of Spiritus Mundi
Troubles my sight: a waste of desert sand;
A shape with lion body and the head of a man,
A gaze blank and pitiless as the sun,
Is moving its slow thighs, while all about it
Wind shadows of the indignant desert birds.
The darkness drops again but now I know
That twenty centuries of stony sleep
Were vexed to nightmare by a rocking cradle,
And what rough beast, its hour come round at last,
Slouches towards Bethlehem to be born?
In this moment with its own authoritarians centering around the globe. In this moment where we seem incapable of meeting the challenges of poverty and racism, cruelties inflicted upon lgbtq people, and, of course, of course, that looming ecological disaster; I too wonder what rough beast is finding its hour, and is in those terrible words, slouching towards Bethlehem.