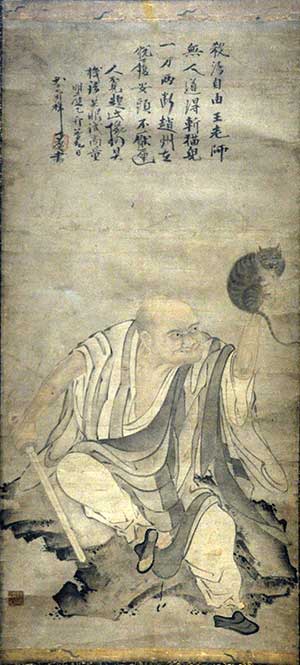 Yesterday my friend Stephen Slottow sent me a social media posting by Tony Head. I loved it. And I wrote to Tony asking for permission to repost it on my blog. He said yes, but also pointed out all he did was put the three pieces together, and he was sure others had done so before. The prefatory remark is Tony's.
A famous Zen koan about a Zen master killing a cat inspired Gary Snyder to write a poem about his own experiences with a kitten in need of saving. Philip Whalen then wrote another poem about the koan, Gary's poem and his own experiences. I love reading all three pieces together…lots of great things to unwrap here.
1. Nansen Kills the Cat – The Koan:
Chan (Zen) Master Nansen saw the monks of the eastern and western halls fighting over a cat. Seizing the cat, he told the monks: "If any of you can say a word of Zen, you will save the cat." No one answered. Nansen cut the cat in two. That evening Joshu returned to the monastery and Nansen told him what had happened. Joshu removed his sandals, placed them on his head, and walked out. Nansen called after him: "If you had been there, you would have saved the cat."
2. Nansen by Gary Snyder:
I found you on a rainy morning
After a Typhoon
In a bamboo grove at Daitoku-ji.
Tiny wet rag with a
Huge voice, you crawled under the fence
To my hand. Left to die.
I carried you home in my raincoat.
"Nansen, cheese!" you'd shout an answer
And come running.
But you never got very big,
Bandy-legged bright little dwarf-
Sometimes not eating, often coughing
Mewing bitterly at an inner twinge.
Now, thin and older, you won't eat
But milk and cheese. Sitting on a pole
In the sun. Hardy with resigned
Discontent.
You just weren't made right. I saved you.
3. Walking Beside the Kamogawa, Remembering Nansen and Fudo and Gary's Poem" by Philip Whalen:
Here are two half-grown black cats perched on a
lump of old teakettle brick plastic garbage
ten feet from the west bank of the River.
I won't save them. Right here Gary sat with dying Nansen,
The broken cat, warped and sick every day of its life,
Puke & drool on the tatami for Gary to wipe up & scold,
"If you get any worse I'm going to have you put away!"
The vet injected an overdose of nemby and for half an hour
Nansen was comfortable.
How can we do this, how can we live and die?
How does anybody choose for somebody else.
How dare we appear in this Hell-mouth weeping tears,
Busting our heads in ten fragments making vows &
promises?
Suzuki Roshi said, "If I die, it's all right. If I should
live, it's all right. Sun-face Buddha, Moon-face Buddha."
Why do I always fall for that old line?
We don't treat each other any better. When will I
Stop writing it down.
Postscript: Always remember the 20th commandment of the Brahjamala Sutra. Always practice liberation of living beings.
And. At absolutely no extra charge…