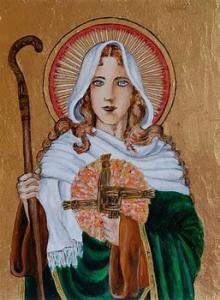 Brigid was born in 451 in County Louth.
Traditions say her mother, Brocca was a Christian Pict slave. Baptized, tradition says, by Patrick himself. Brigid was said to exhibit signs of holiness from early on, including giving away her father's money and goods to the poor.
She became a nun, and with seven companions are celebrated as the first nuns in Ireland. She was eventually given "abbatial powers," authority similar to that of a bishop. Brigid founded convents and monasteries and churches. She is also said to have founded a school for the preservation of art.
Brigid is said to have died at Kildare on the 1st of February, in 525.
And so today is her feast.
At least so say the ancient songs…
Today Brigid of Kildare, sometimes Brigid of Ireland is the patron saint of Ireland, and with Patrick and Columbia counted as Ireland's three national saints.
Now, I believe it was at least likely there really was a Christian of the name, Brigid, a nun and abbess. But it seems hard to avoid the mixing of that good lady with that other good lady of the same name who preceded her. That Brigid is one of those triple goddesses so loved by the ancients. And today, the 1st of February is also Imbolc, an ancient festival marking the beginning of Spring, half way between the winter solstice & the spring equinox. And. This day is the goddess Brigid's feast.
As Augusta Gregory writes the goddess Brigid was "a woman of poetry, and poets worshipped her, for her sway was very great and very noble. And she was a woman of healing along with that, and a woman of smith's work, and it was she first made the whistle for calling one to another through the night. And the one side of her face was ugly, but the other side was very comely. And the meaning of her name was Breo-saighit, a fiery arrow."
Brigid is the goddess of Wisdom. And wisdom is considered one of the principle attributes of the saint Brigid.
And I think this the most important thing. Here with this holy woman, at once a Christian saint and an ancient goddess, and the wisdom that can spring up from between.
And, here we are. Today, when so much is going on, so much good, so much not. And I think of that place between. Its power. Its possibilities.
And from that place, and through those ladies, I pray for wisdom for all of us. Something in short supply. But, also, something desperately needed.