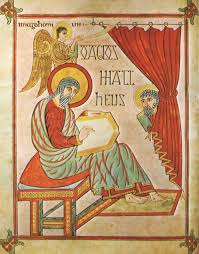 The Anglican liturgical calendar marks out today, the 11th of February as a feast for the seventh century poet Caedmon.
Poets are, after all the bards of the spirit. And many deserve to be celebrated as saints. And, here we get one…
Caedmon is the earliest English poet that we can name. He was a monk in the monastery of the even more remarkable abbess Hilda of Whitby.
The story has it that he was a lay brother charged with tending the monastery's animals. That story says he was illiterate. One night he had a dream in which "someone" came to him and told him to sing to the creation of all things.
Caedmon told his superiors, who took him to the abbess. Hilda questioned him closely. Then gave him a test, telling him to composing the poem. He did over night, and the next day recited it to her.
Astonished at the poem's beauty and believing Caedmon was touched by the divine, she had him professed as a full monk and ordered he be given a formal education to support his composition.
It happened. And he wrote. According to the Venerable Bede his works were widely recited and he inspired many to the monastic life.
Possibly he was ordained a priest in old age. Little is known with any certainty, beyond the reputation of his poetry.
Sadly only one poem survives, which has come to be called Caedmon's Hymn. It survives in some twenty-odd manuscripts. Some appear to transmit a Northumbrian dialect, which is believed to be Caedmon's. While others seem to be adaptations into the West Saxon dialect. There are also a fair number of minor variations in these texts.
Professor Elaine Treharne offers a version:
Now we ought to praise the Guardian of the heavenly kingdom,
The might of the Creator and his conception,
The work of the glorious Father, as he of each of the wonders,
Eternal Lord, established the beginning.
He first created for the sons of men 
Heaven as a roof, holy Creator;
Then the middle-earth, the Guardian of mankind,
The eternal Lord, afterwards made
The earth for men, the Lord almighty.
Here's what it would sound like…