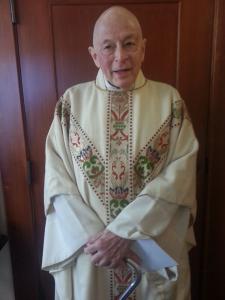 I am a High School dropout.
I am forever grateful for California's community college system, its night school in San Diego offered me a way toward higher education. In my mid thirties, when I landed at Sonoma State University, I was pretty single minded about getting into graduate school, and moving as fast as I could. A couple of friends advised me to do myself a favor, look around, find a professor I admire and take whatever classes that person offered. I did.
When I arrived at seminary just turned forty, while I was still pretty single minded about getting that ticket into a paying job, I had also arrived at a place that looked a bit like heaven. My school was the Pacific School of Religion, but it was part of a larger and tightly knit consortium, the Graduate Theological Union, where tuition to one school was tuition to all. Plus, PSR only required that I take a third of my classes with them. So, I had an enormous field to play within.
And, among the first things I did was look for that single professor.
I quickly settled on Louis Weil. I met him through some school event. He was brilliant. He was witty. And, I was shocked to find in a consortium of theological schools, he had an air of holiness about him. I ended up taking four classes with him, and he was one of my thesis advisors for my MA in the philosophy of Religion (a second degree I tagged onto my MDiv).
Part of what was interesting was that I was theologically a Zen Buddhist preparing for the Unitarian Universalist ministry. While Louis was a professor of liturgy at the Church Divinity School of the Pacific, the Episcopal seminary with the GTU.
I've just learned that Louis died two days ago, on the 9th of March. He was 86.
I am bereft.
Louis Weil was born in Houston, Texas in 1935. He was raised in New Orleans. His father was Jewish, I don't believe his mother had a religious affiliation. As an undergraduate at Southern Methodist he embraced the Episcopal church, although he always considered himself both a Christian and a Jew. That sense of "both and" would be part of what made him important to me in an ongoing way through my spiritual life.
After earning a master's in musicology at Harvard, he attended the Graduate Theological Seminary in Manhattan and was ordained deacon and priest. He served congregations in Puerto Rico while also teaching at the Episcopal Seminary of the Caribbean.
Louis then went to France where he earned a doctorate at the Catholic University of Paris. He was the single Anglican in his class that included future canon theologians and bishops of the Roman church, as well as creation spirituality theologian Matthew Fox. Amusing anecdotes about these years and people would pepper future conversations.
He taught at Nashotah House for fifteen or sixteen years. A famous Anglo-Catholic seminary, and I believe a congenial home for many years. However, as events within the church pushed toward internal social justice issues, he found his belief that women could and should be ordained became a conflict. So, in 1988 Louis excepted his appointment as Hodges-Haynes Professor of Liturgies at CDSP.
Which was when I arrived.
He was a font of insight, humor, and wisdom.
I recall when I told him I'd received an invitation to serve at the Unitarian Universalist congregation in Mequon, Wisconsin. He told about a time when he was asked to organize a clerical meeting in Wisconsin (where Nashota House is) and saw that the ideal geographical location would be Mequon. They also have a Wisconsin Synod Lutheran seminary there. So, he called, introduced himself, and asked if it was possible to rent a space for this small clergy gathering. The request moved up until he was talking to the Dean. Who apologized profusely, explaining they had to decline as they could only rent space to Christians.
It wasn't until I arrived that I really understood the complexities of the Lutheran communion in North America, and that there would be Lutherans who would speak to me and others who would not speak to Lutherans who would speak to me. Ah. Religion.
But most of all, what Louis pointed to for me was the mystery and majesty of the Eucharist.
With him I learned its history and its structures, to considerably greater depth than might be good for a UU minister.
But he also took me to a place beyond "theology," beyond theory and doctrines. He invited me to a sacred meal. To a meeting of heaven and earth in the sharing of bread and wine.
The communion, the Eucharist, the mass is one of those places where time and space collapse, and where the mystery of life coalesces.
I've had to stand there for myself. But Louis showed me where to stand.
And kneel.
And how to accept the great mystery that is beyond our ideas of what is and what is not.
Found in the taste of bread.
Louis Weil was an Anglican theologian. He was a wise and good teacher.
I think of my teacher, and I am sad that he died. I think of my teacher, and I'm so grateful for his life.
His life was a pointing into the mystery.
Endless bows…