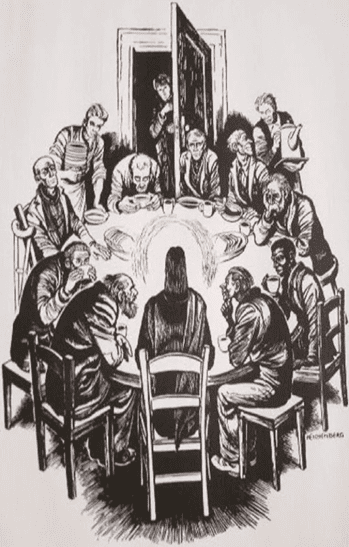 James Luther Adams is arguably the single most important theologian produced by Unitarian Universalism in the twentieth century. Through his years at Harvard and elsewhere his teaching spread the benefits of a liberal spiritual perspective as a leaven among those who would become the clergy of many denominations. He was a wise and good teacher.
In his essay "The Indispensable Discipline of Social Responsibility," he tells a story about himself that haunts me.
"In 1927 in the city of Nuremberg, six years before the National Socialists came into power, I was watching a Sunday parade on the occasion of the annual mass rally of the Nazis. Thousands of youth, as a sign of their vigor and patriotism, had walked from various parts of Germany to attend the mass meeting of the Party.
"As I watched the parade which lasted for four hours and was punctuated by trumpet and drum corps made up of hundreds of Nazis, I asked some people to explain to me the meaning of the swastika that decorated many of the banners.
"Before very long I found myself engaged in a heated argument. Suddenly someone seized me from behind and pulled me by the elbows out of the group with which I was arguing. In the firm grip of someone whom I could barely see I was forced through the crowd and propelled down a side street and up into a dead-end alley….
"At the end of the alley my uninvited host swung me around quickly, and he shouted at me in German, 'You fool. Don't you know? In Germany today when you are watching a parade, you either keep your mouth shut or you get your head bashed in.'
"I thought he was going to bash it in right there. But then his face changed into a friendly smile, and he said, 'I am an anti-Nazi. As I saw you there, getting into trouble, I thought of the times when in New York City as a sailor of the German merchant marine I received wonderful hospitality.' I grabbed you and here we are. I am inviting you home to Sunday dinner."
I find myself thinking a lot about that Sunday dinner.
The need to see clearly. And what it takes to gain such a perspective.
And then finding the right time, place, and way of speaking that clarity.
I think a lot about that diner and the power of hospitality.
A communion hymn…