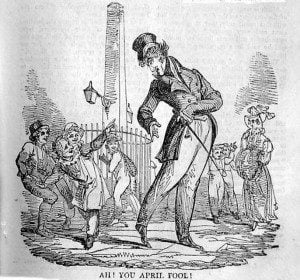 Noticing that today was April first, I looked back at my past postings to see if there was anything worth sharing. Probably the best thing was the classic 1957 BBC hoax "reporting" on the Spaghetti harvest in Ticino. (A more innocent time, at least in some ways…)
What was more surprising was that the following also popped up. It was framed as a spiritual practice one might want to try. Why it was included in a search for the terms "April" and "fool" I have no idea.
Or, that the algorithm is much deeper than I usually give such things credit for.
It is an invitation into a kind of spiritual foolishness. Something of genuine value. For those up to the task:
"Once there was a disciple of a Greek philosopher who was commanded by his Master for three years to give money to everyone who insulted him. When this period of trial was over, the Master said to him: Now you can go to Athens and learn wisdom. When the disciple was entering Athens he met a certain wise man who sat at the gate insulting everybody who came and went. He also insulted the disciple who immediately burst out laughing. Why do you laugh when I insult you? said the wise man. Because, said the disciple, for three years I have been paying for this kind of thing and now you give it to me for nothing. Enter the city, said the wise man, it is all yours. Abbot John used to tell the above story, saying: This is the door of God by which our fathers rejoicing in many tribulations enter into the City of Heaven."
Thomas Merton The Wisdom of the Desert: Some Sayings of the Desert Fathers (New York, New Directions, 1960: p. 39)