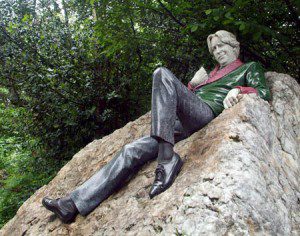 Many years ago now, Jan and I and some friends visited Ireland. While in Dublin, in Merrion Square, we saw the famous statue of Oscar Wilde lounging on a rock.
It's quite the piece of art.  As, of course, was Oscar.
Following his disastrous libel lawsuit against the Marquess of Queensberry, Oscar Wilde was arrested on the 6th of April, 1895, charged with "gross indecency." As it happens, it was today, the 25th of May, that Wilde was convicted and immediately began a two year term at hard labor.
After which he would flee to France, where a shadow of who he had been, he died in 1900 in Paris. He was forty-six.
Genius brought down, sure, in part by his own recklessness, but as much by a culture that criminalized an ordinary human condition.
Such a loss…
These days, where a woman's right to her own body is being denied, and the persecution of others feels only around the corner, a moment to remember.