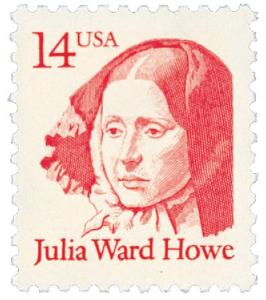 Julia Ward Howe was born on the 27th of May, in 1819.
She was half of one of the nineteenth century's genuine power couples (Her husband Dr Samuel Gridley Howe was the founding director of Perkins School for the Blind was the first person to develop a system for educating the deafblind.), she is no doubt best known for the Battle Hymn which was published in the Atlantic Monthly in 1862.
Descended from Roger Williams and two governors of Rhode Island. Her independence manifested early when she married the dashing hero of the Greek revolution, Samuel Gridley Howe. The marriage was a mixed blessing. He brought her into the center of the intellectual and spiritual ferment that was early mid-nineteenth century Boston. But he was also a controlling figure and she had to struggle to find her own way.
Julia succeeded.
Her first act of independence was to travel without her husband to Rome. Then she began to publish her poetry. Julia became active in prison reform, abolition and women's rights. Julia mastered seven languages and knew contemporary philosophy as well as anyone in New England. Raised Episcopalian, by her thirties she'd crossed over to the Unitarian church. She was an intimate with William Ellery Channing and Theodore Parker.
Both Samuel and Julia were supporters of John Brown, and following Brown's insurrection and arrest, when Samuel was forced to flee to Canada to avoid prosecution as a co-conspirator, she became ever more independent. Then in 1862 the publication of the Battle Hymn made her one of the most famous women of the nineteenth century.
She became of co-editor of the Women's Journal, one of the premier organs advocating women's rights and particularly women's suffrage.
And she was one of the founders of the American Mother's Day celebration. Disgusted by the horrors of war, this became for her a Mother's Day for peace.
Julia was the first woman to be elected to the Society of Arts and Letters.
It is hard at this distance to understand the breadth and depth of her influence in the nineteenth century, earning her the sobriquet "Queen of America."
So, happy birthday, Julia!