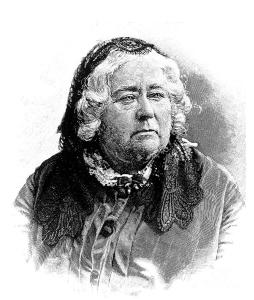 Elizabeth Palmer Peabody was born on this day, the 16th of May, in 1804.
The litany of her accomplishments is long. Widely read and cultivated, after starting and running two schools, and would eventually open the first kindergarten in the United States.
Elizabeth served as William Ellery Channing's private secretary for nine years. She transcribed his sermons, edited them, and saw them through publication. Continuing her interest in education she assisted Amos Bronson Alcott in his work. A central member of the Transcendentalist Club she brought her friends Jones Very and Nathaniel Hawthorne into the group. Her West Street bookstore became a center, not only for gatherings of the Transcendentalists, but of the whole of Boston's intellectual community.
And…
One of those small errors of historical fact that persists is how Henry David Thoreau produced the first English-language version of a Buddhist text. It was an English translation of a French translation of a chapter of the Lotus Sutra.
The origin of this mistake was simple enough. The chapter was included in an 1844 edition of the Transcendentalist journal, the Dial. The chapter was unsigned. The editor of the journal at the time was Thoreau. He was well-known to be interested in matters Eastern. All it took was for a single writer to make the attribution, and it has been repeated endlessly.
The translator, however, was Elizabeth Palmer Peabody.
And the mistake was quickly noticed and corrected.
But, the correction has had to follow nearly endless repetition of the Thoreau attribution. And to this day there are people who innocently repeat how Thoreau produced the first English-language version of a Buddhist text in English.
As they say, anonymous once again turned out to be a woman.