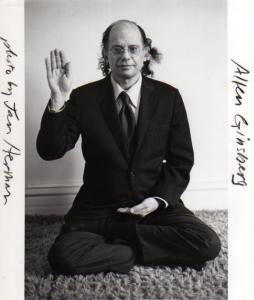 Selected from MOSTLY SITTING HAIKU
from a Chapbook published in 1978
I stumbled upon these on the interwebs. Should the copyright holders object, they will be removed, promptly. But I hope they won't. I find them delightful, expressions from the poet Allen Ginsburg's meditation experiences, mostly under the tutelage of the now controversial Tibetan meditation teacher Chögyam Trungpa.
Anyone who has sat a silent meditation retreat in the Buddhist tradition will feel some resonances.
And perhaps all of us can feel the invitations flowing from Allen's words…
Lastly, for more about Allen Ginsberg and for some cool stuff, go here.
James Ishmael Ford
**
The short poems (here) range from purest haiku through wry senryu to several which are simply poems, outside any genre save that of Coleridge's 'the best words in the best order.' They are mostly about sitting, not in the studied attitude of a self-appointed adept, but as a person aware of the twitches and aches that tell him who he is. Perhaps through them we can learn more about who we are.
(Abridged from a larger introduction by) William J. Higginson
(Some of these poems first appeared in LOKA and in Mind Breaths (City Lights, 1977)
Originally published by
From Here Press
Box 2702
Paterson,NY 07509
**
MOSTLY SITTING HAIKU
**
Mountain wind slow as breath,
mist drifts over pines
**
Meditation hall silent
bird slammed into window,
sat brooding half an hour
Saw Buddha then.
**
Fog rolling down
the mountain
the tram lift towers
above leafless aspen.
**
A mountain outside
a room inside
a skull above
Snow on the mountain
flowers in the room
thoughts in the skull
**
Snow mountain fields
seen thru transparent wings
of a fly on the windowpane.
**
Use breath as Manjusri
Sword instantly cutting
down thought after thought
heaviness of sleep dream
fantasy, breath after breath
outward.
**
CABIN IN THE ROCKIES
**
Sitting on a stump with half cup of tea,
sun down behind mountains –
Nothing to do.
**
Not a word! Not a word!
Flies do all my talking for me –
and the wind says something else.
**
Fly on my nose,
I'm not the Buddha,
There's no enlightenment here.
**
Against red bark trunk
A fly's shadow
lights on the shadow of a pine bough.
**
White sun up behind pines,
a moth flutters past
the brown wood pile.
**
An hour after dawn
I haven't thought of Buddha once yet!
–walking back into the retreat house.
**
WALKING INTO KING SOOPER
AFTER TWO-WEEK RETREAT
**
A thin redfaced pimpled boy
Stands alone minutes
Looking down into the ice cream bin.
**
PARK ANENUE PATERSON – 2AM
**
A red sweater
crumpled on lawn grass
under bright streetlights
**
The withered purple roses droop
on their green dry-leafed stalk
**
LAND O' LAKES, WISC. SEMINARY
**
1.
I thought my mother was dead and
lamented her
surrounded by billions of mothers
cows grassblades & girlfriends' eyes
2.
Buddha died and
left behind a
big emptiness.
3.
Candle light blue banners incense,
aching knee, hungry mouth—
any minute now the gong—potatoes &
Sour cream!
4.
Sunlight on the red zafu
clank of forks & plates.
5.
Did you ever see yourself
a breathing skull
looking out the eyes?
**
Sitting
under wooden roof beams
listening to a hundred people
sit
sniffing, cough, clearing throat
sneezing, sighing
breathing through nose
shifting on pillows in clothes
swallowing saliva,
listening.
**
FOR CREELEY'S EAR
**
The whole
weight of
everything
too much
my heart in
the subway
pounding
subtly
head ache
from smoking
dizzy
a moment
riding
uptown to see
Karmapa
Buddha tonight.
**
The photo of Allen Ginsberg is by Jan Herman
**