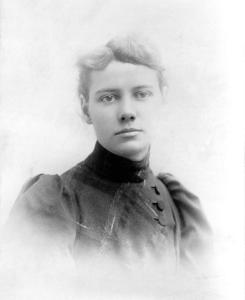 It was on this day, the 14th of November in 1890 that the remarkable and almost too amazing to be believed, but carefully documented so so very much real Nellie Bly embarked on her famous trip around the world.
Her journey was measured against the fictional Phileas Fog's trip around the world in 80 days. She arrived home after a seventy-two day race, besting the fictional Fogg by eight days.
Elizabeth Jane Cochrane, who wrote under the name Nellie Bly had already cut her adventure journalist teeth writing exposes of factory working conditions, lived in and wrote about Mexico, then becoming famous by faking her way into the notorious Women's Lunatic Asylum on Blackwell's Island and writing a devastating expose of the cruel conditions there.
She would go on to marry a millionaire, may or may not have invented the 55-gallon oil drum still in use today (she did hold the patent, but there are challenges to whether she actually did it), did invent a milk can and a stacking garbage can, made her own fortune, lost it all, and returned to journalism before dying in 1922.
It was conventional for women journalists to write under pen names. Her's was picked from a popular song of the moment.
(After writing this a friend asked if I knew Nellie Bly had interviewed Laura Bridgman? I said no I didn't. But upon reflection it made sense. If you're unfamiliar with her Laura Bridgman opened the door that Hellen Keller would walk through. Here's the article.)
And in conclusion for a bit more on Nellie…