Does your home look Catholic? Do you behave like a Catholic?
Is your home populated with Catholic reading materials and articles of faith? If not, how do you feed your faith? How do you expect your children to absorb Catholicism and make it their own?
This latter question is related to a commonly understood problem in the teaching of reading. Children of poverty often don't learn to read easily because they have no exposure to or expectations about reading at home. Consequently, at school the teachers are talking about a foreign concept that doesn't seem to apply to their lives.
Think about it: If kids never see Mom and/or Dad read a book or magazine, why should they take an interest? Children learn by example after all. So, researchers called for programs to provide a "literature-rich environment" in the home.
As a result, inexpensive "take-home books" are provided in some high-poverty school districts to help alleviate this problem. Some pediatricians "prescribe" books for their patients (https://www.cleveland.com/healthfit/2014/06/pediatricians_prescribe_books.html).
Of course, parenting classes teach parents to read with their children, but sometimes the parents are illiterate and thus can't be their children's first teachers. At least they can make sure there are reading materials in the home and trips to the library.
The Materials and Practices to Raise Kids Catholic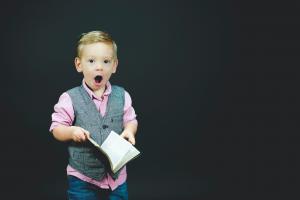 Learning to read or learning to be Catholic, children need educational materials at home. So it is important to ask yourself: "Is there is a poverty of Catholic publications in my home. Am I illiterate in my faith?
If the kids don't see Mom and/or Dad saying the rosary, reading the Bible, reading a Catholic magazine, saying grace, or making the sign of the cross, then how do the parents hope to make an impression on their kids about the importance of their religion?
Going to Mass every Sunday is great, but if the family leaves their religion at church, how much good has it done? Will the kids think that being Catholic is something you do only on Sunday, but it is forgotten the rest of the week?
Even if the kids go to weekly religion classes, if there is no connection to the home, then the lessons stay in class. Even if the kids go to a Catholic school, Catholic practices aren't likely to last into adulthood unless they were modeled by the adults in the home. Otherwise, kids think, "Oh, that's just the stuff they made us do in that Catholic school. It doesn't apply in the real world."
The point is that neither the children or you will feel Catholic, will see Catholicism as a part of yourselves, unless you are surrounded by reminders and behaviors of the Church at home.
So, do an inventory around your house. Are there any religious statues or pictures? A crucifix? Rosaries? Catholic newspapers or magazines? Your church bulletin?
Do you decorate your home for holidays with Catholic items like a nativity set at Christmas or a lamb cake at Easter? Do you observe Advent and Lent by sacrifices and fasting?
Do you attend meetings of a Catholic organization like the Knights of Columbus or St. Vincent De Paul Society? Do you ever volunteer with church activities? Does the family attend church festivals or other events?
Do you wear a Miraculous Medal or a Scapular?
An Investment in Yourself as a Catholic
If all of this sounds very uncool, or too much like your dowdy parents, let me invite you to give it a try anyway. You might be surprised. You might find that your own faith is strengthened and that being Catholic means more to you than you thought.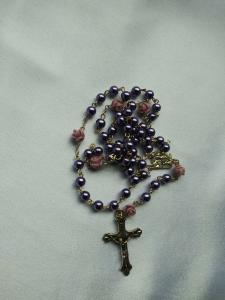 There are a number of Catholic stores online, but I recommend going into an actual brick and mortar store, or at least your parish gift shop, if you have one. You'll be amazed by the variety of items and how beautiful they are. Looking at the items will truly affect and connect you.
With or without children, having Catholic items around the house will reinforce your faith and provide comfort. They are needed reminders of what you believe and who you are.
Epilogue: The type of person who does not have any Catholic items at home is not likely to be reading this blog. So, dear reader, you have my permission to share this blog at will.