Why would I talk about a secular approach to the pro-life message in a Catholic blog? Because that's the approach that works best.
Millennials and Gen Z are the least religious generations since Roe and yet lean more pro-life. Further, those seeking an abortion, if religious, react defensively to a religious approach. Obviously then, our language and reasoning need to be secular.
Among pro-life organizations, there is a great diversity in members and missions that defies the stereotypical image. For your information, below are some organizations you should know, possibly join, and definitely share with others.
Atheist and Agnostic Pro-Life League: "[B]ecause life is all there is and all that matters, and abortion destroys the life of an innocent human being." This statement makes tremendous sense — if there is no afterlife, then the one life you get becomes all the more precious. Each person's right to life is therefore paramount. godlessprolifers.org
Consistent Life Network: This umbrella organization ties together all the threats to human life and asserts that killing is not the way to solve problems. DFLA, FFLA, FFNVC, NWF and RI are all members. See a discussion of consistent Life concepts in my previous blog: https://www.patheos.com/blogs/musingsfromthepew/2021/09/blogs-musingsfromthepew-p254/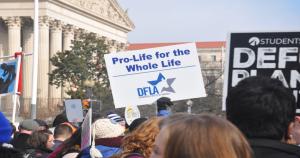 Democrats for Life: The mission of this organization is to "defend Universal Human Rights within the Democratic Party and to elect Whole Life Democrats. DFLA recruits and supports pro-life Democratic candidates and office holders, works to change the Democratic platform on abortion and lobbies for pro-life legislation. [Disclosure: this author was one of the founders of DFLA] https://democratsforlife.org/
Feminists for Life: FFLA is "dedicated to systematically eliminating the root causes that drive women to abortion — primarily lack of practical resources and support — through holistic, woman-centered solutions." A nonsectarian, nonpartisan, grassroots organization, FFLA provides multiple resources and publications, college campus outreach, speakers and legislative and judicial advocacy. https://www.feministsforlife.org/
Feminists for Nonviolent Choices: Following Susan B. Anthony's call to "organize, agitate, and educate" from a nonviolent feminist perspective, this New York-based group is a nonsectarian, nonpartisan grassroots effort to promote the belief that all people, by virtue of their human dignity, have a right to live without violence from conception to natural death. https://www.ffnvc.org/
New Wave Feminists: This organization exists to "advocate for the dignity of the vulnerable, amplify a consistent life message, and agitate the status quo." NWF empowers women with humor, very trendy materials, and hard work on projects such as taking feminine supplies to disaster areas and providing assistance to pregnant and single-parent women in shelters on the border. https://www.newwavefeminists.com/
Progressive Anti-Abortion Uprising: A new organization, PAAU will mobilize grassroots pro-life activists, especially the secular and left-leaning, for direct action in blue cities against the abortion industrial complex and the Democratic Party. https://paaunow.org/
Pro-life Humanists: Humanism is based on reason and our common humanity. Humanists believe that moral values are properly founded on human nature and experience alone. "To deny any biological member of our species his or her basic right to continued existence is a violation of the very principles of equality and inclusiveness that are the foundation of Humanism." www.prolifehumanists.org
Pro-Life Pagans: Their tenet of "Harm None" includes the unborn. Pagans worship nature. Therefore, since it goes against nature to kill one's own young, since it disturbs the natural process to abort and stop the growth of a living thing, it is logical that pagans would be against abortion. https://prolifepagans.wordpress.com/ or @prolife.pagan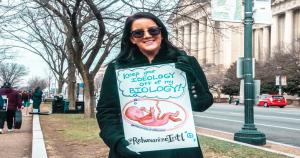 Rehumanize International: Non-sectarian and non-partisan, this nonprofit human rights organization is dedicated to creating a culture of peace and life through education, discourse, and action. It also promotes collaboration among many organizations and political persuasions and publishes Life Matters Journal. https://www.rehumanizeintl.org/
Secular Pro-Life: This single-issue organization hopes to strengthen the pro-life movement by building coalitions of pro-lifers of every faith and no faith. Anyone interested in advancing secular arguments against abortion is welcome. The group has great materials, slogans, ads, cartoons and more. https://www.secularprolife.org
These organizations are growing substantially. Most have a presence at major pro-life events and have conferences and special projects. All are active on social media such as Facebook, Twitter and Instagram, so you can follow them there as well as find further information on their web sites.
The point of this information is to encourage Catholics and others to find a pro-life organization that fits your personal approach and support its efforts. Do not believe the stereotype of pro-lifers presented by the media. Do not shy away from pro-life advocacy because you think it is only for the right-wing and ultra-religious. To create a life-affirming culture we must all be involved, wherever and whoever we are.