From first grade through college, I was fortunate enough to go to Catholic schools. Besides receiving an excellent education, I was exposed to the spirituality and the community life of the nuns, elements that are particularly attractive in these times.
In elementary school, I had Franciscans; in high school, Benedictines; in college, Immaculate Heart of Mary sisters. The Benedictines of Fort Smith, Arkansas, and the IHMs of Monroe, Michigan, both communicate regularly through various publications.
Nuns & Nones, Sisters & Seekers
In a recent issue of the IHMpact, an article by Brittany Koteles, discussed the relationship she has developed with the IHM community and her involvement with Nuns & Nones, an organization bringing together women religious and millennials.
About 40% of millennials (those born between 1981 and 1996) are called "nones" because they check the box for "none" when asked about religious affiliation on a form.
Koteles chafes somewhat at the term because she sees "a quiet movement of prayerful people who are pursuing God beyond the boundaries of an institution" rather than people who are rejecting God and religion altogether. (Finding home in the borderlands" https://ihmsisters.org/publications/ihmpact/)
For this reason, Nuns & Nones is also sometimes called "Sisters & Seekers." The movement began in late 2016 when the Harvard Divinity School sponsored a two-day meeting of about a dozen each of millennials and nuns to talk about living in community and in service to others.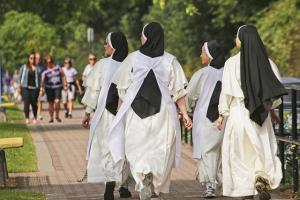 Intergenerational Learning
The accumulated experience and wisdom of these older women was so attractive to the younger people that word quickly spread about the value of this resource. Hundreds of groups have now met in seventeen states.
The millennials are learning new ways to practice spirituality and social justice. The nuns are finding new pathways for nourishing and growing another generation. According to the Nuns & Nones web site, Sister Mary Dacey, SSJ, told the National Catholic Reporter:
"They brought me back to my own integrity as a woman religious, not just by what they were searching for, but by the questions they asked." https://www.nunsandnones.org/
In 2018, Nuns & Nones received $10,000 as a finalist in 2018's Gen2Gen Encore Prize competition, which highlights new ideas that can bring the generations together. There is a wonderful description of the program on their web site: https://generationtogeneration.org/stories/nuns-nones/
In the Gen2Gen article, "How an alliance between Millennials and religious sisters has changed outlooks," Dominican Sister Gloria Marie Jones reports that her first meeting "took us into a level of common humanity, vulnerability, and oneness."
She found the conversation to be life changing. "I truly was blown away by the insights that were shared," by "listening to these beautiful young people who want to create a better world, who are searching for intentional community and want to learn from us."
Lifestyle Models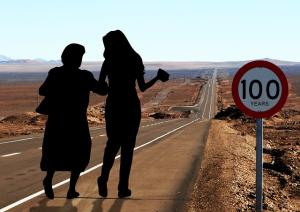 Koteles describes her peers as people "working to heal the world in different capacities" but who "risk isolation from the personal healing and spiritual work that's fundamental to why we're doing this." She finds the sisters to be lifestyle models.
Some of the millennials have found a retreat at a monastery to be so beneficial that five millennials are now experimenting with a co-living situation at the Mercy Center in Burlingame, California, for six months.
The Nuns & Nones web site states: "Our work has continued to evolve over the years, and we have discovered a shared call among sisters and seekers alike, to support committed communities—new and old alike—to enact the long-term work of repair and renewal that is needed in our world."
This interaction should be encouraging to us all. Koteles wrote: "In a world based on individualistic consumption, sisters' very lives are marked by interdependence and community."
Yes, world, please take note that we need each other. Peace and fulfillment result from encouraging and sustaining each other rather than a "me only" outlook. Koteles also learned how the "sisters' prophetic stance in the world was made possible through their commitments."
This last point is so critical: commitment. It means taking a vow and keeping it. It means dedicating yourself to make the world a better place. Who is a better example of commitment than the nuns and priests of the Catholic Church?
Like the intergenerational programs that put nursing home residents and school kids together, Nuns & Nones exemplifies a type of program that should be implemented wherever possible.
Sharing knowledge between generations saves treasure from being lost, creates understanding while battling loneliness and prevents the world from taking a step back. Generation to generation sharing produces progress.
We can hope that, in the process, young people will also rediscover the value of religion, the reasons for the traditions and practices of the Catholic Church. Obviously, they are learning to respect our nuns, who are in the thick of educating us all once again!