Catholicism values silence. While we have magnificent music for our liturgies, awesome homilies, prayers we say out loud at Mass or together in the recitation of the rosary and so on, we also place importance on a tradition of silence.
There is a hauntingly beautiful and ancient hymn called "Let All Mortal Flesh Keep Silence." It is derived from the "Prayer of the Cherubic Hymn" from the Litany of St. James, written in the 4th Century. It's first verse says:
"Let all mortal flesh keep silence/ And with fear and trembling stand/ Ponder nothing earthly-minded/ For with blessing in his hand/ Christ our God to earth descendeth/ Our full homage to demand."
The hymn advises silence in the presence of the Lord, who brings us blessings but rightfully demands that we give Him our full attention and respect when we pray. As every teacher has admonished her students, "You can't listen while you talk!"
God's Voice
In 1 Kings 19:12, we are told that God speaks quietly, in a "tiny whisper" or a "still small voice." Therefore, we must listen carefully and attentively to discern God's message. We might not be able to hear if we are surrounded by the clamoring of a noisy world.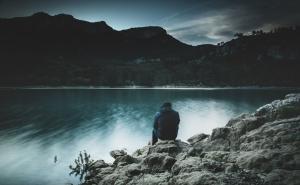 Silence is thus integral to Catholic life. We cannot afford to be too busy or distracted by problems to hear the advice of the Holy Spirit. Listening to God requires a stillness of body and mind.
Meditation requires that we empty our thoughts so that the mind is open and receptive. As we meditate, our feelings open up to a spiritual connection with God, to love and healing.
Expert Advice
An article on "The Practice of Silence for Lay People" provides three examples of learned advice on silence:
"In silence and quiet the devout soul advances in virtue and learns the hidden truths of Scripture," said Thomas a Kempis, the 15th century monk and author of The Imitation of Christ, one of the most famous devotional books of all time.
"Guard against much talking," admonished St. Dorotheus of Gaza, "for it puts to flight devout thoughts and recollection in God."
St. Maximilian Kolbe declared that "Silence is necessary, and even absolutely necessary. If silence is lacking, then grace is lacking."
The article further explained that "Through the centuries, many religious orders have put this advice into practice, with not a few prescribing silence to various degrees in their rules.
"Perhaps the most famous and strict of these orders is the Carthusians. Their disciplined quiet is so well known that a documentary film about them was entitled, Into Great Silence." https://catholicgentleman.com/2016/07/practice-silence-lay-people/
Adoration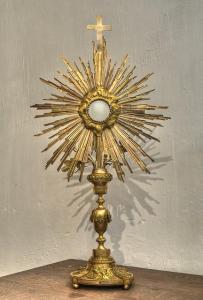 A discussion of sacred silence probably means Benediction and Perpetual Adoration to most Catholics. In nearly every parish, there is a Perpetual Adoration chapel or a "Holy Hour" for Benediction and silent adoration.
These are opportunities to spend time in prayer or quiet thought while in the actual presence of Christ. It is a special time for "breathing in" Christ and quietly working on our communication and relationship with God.
Often, I've found, adoration chapels are particularly beautiful or inspirational. They remind me of the "Holy of Holies," the sacred ground of the Ark of the Covenant. After all, it is the residence of the living God.
The most awesome, in my opinion, was the Eucharistic Chapel in the appropriately named Cathedral of the Blessed Sacrament in Sacramento, California. The chapel is in the space where the original altars were located before being moved to comply with Vatican II.
Since the main altar was moved very far forward, the large space between the altar and the tabernacle was converted into a chapel surrounded by widely open lattice-work walls. The effect is so much a "Holy of Holies" that you want to fall to your knees.
Body and Soul
I read recently that the brain needs a period of silence every day to get itself in order. No wonder that studies show silence gives us the clarity to gather our thoughts and a sense of calm.
Silence also helps us to channel our energies. It relaxes the body and brain, which lowers our blood pressure and increases blood flow to the brain. Silence also, unsurprisingly, lessens insomnia and enhances sleep.
If ordinary silence is that beneficial, think of what a silent period spent in prayer and meditation can do for body and soul. Pity the people who go around with earphones all day. Their minds are clogged with destructive noise instead of constructive silence.
The old idiom says, "Speech is silver, but silence is golden" meaning that while words can be important, it is better to say nothing—and listen to God.