The "Wandering Pew" team (my husband and me) once traveled to Fayetteville, Texas, to visit two historic Czech Catholic churches: St. John the Baptist (1870) and St. Mary (1855). These two churches were delightful discoveries for their history and settings.
Fayette County was established by Czech settlers in the mid-1850's. They were originally served by area priests, but in 1872, the petition to have a Czech priest was granted, and Fr. Chromcik arrived from Moravia and stayed for 38 years.
Ever after, the parish has had mostly Czech pastors. Masses at St. John's are still celebrated with Czech songs at various celebrations throughout the year.
Fr. Stephen Nesrsta, serving from 2007-13, had not only a Czech heritage but also a passion for Czech tradition. Czech Masses were celebrated on special occasions and each summer Fr. Stephen would host visiting Czech transitional Deacons.
The Paintings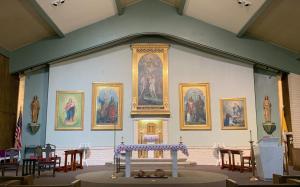 Back in the 1870s, Czech-born Fr. Chromcik used old-country connections to commission some paintings for the church. They were displayed for some time, but new pastors, a new church and so on eventually resulted in the paintings being scattered.
Fr. Jack Maddux, pastor from 2002-2006, noticed one of the paintings and inquired about it. According to the story I heard from a parishioner, he found others in a barn and an attic, and suspected that they might be worthy of examination by an art historian.
Sure enough, the artist was Ignaz Johann Berger, a talented and successful Moravian painter of altar pieces and religious themes. His works can be seen in many parishes in Moravia, Poland and Hungary.
The paintings were restored and hang above the tabernacle in the current church, which is now a recommended tourist stop. However, the value of the paintings requires costly insurance, safety and environmental control; difficult for a town of only 300 people.
St. Martin Church
The five paintings original to St. John's are shown in the adjoining picture. There is a sixth painting above the sacristy doorway of St. Martin of Tours. It was created for St. Martin Mission Church in nearby Warrenton, now a miniscule unincorporated community.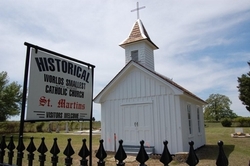 In 1915, the old St. Martin Church was torn down. It was replaced by a tiny 12' X 16' building now touted as the "Smallest Catholic Church in the World." Today, St. Martin continues to have a monthly Mass.
St. Mary Church
Not far away is Ellinger, a hamlet of 203, also settled mostly by Czech Catholics. Their beautiful white church with a tall spire is on top of Hostyn Hill, named after a similar-looking hill at a Moravian pilgrimage site.
The parish has gone through several names and several church buildings. The original small church was replaced in 1865 and again in 1879, each edition bigger and more elaborate. The 1879 building burned down in 1905 but was replaced by late 1906.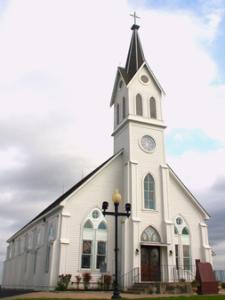 This final version of St. Mary Church is a treasure, and it was completely renovated in 2005. It contains an intricately detailed altar and is surrounded by lovely grounds. Fittingly, the parish website says it offers "a peaceful sanctuary for all those who visit."
To stand atop Hostyn Hill is to get a 360-degree view of the surrounding countryside. It is breathtaking! As one visitor wrote in St. Mary's guestbook, "This is as close to heaven as I have ever been." However, it's not just the view that evokes this feeling.
The hilltop sets off the charming church and its adjoining cemetery wherein lies the history of the people of this parish. Every visit is a reminder of those who have gone before, a sustaining of the connection to family and friends from long past and not so long ago.
St. Mary's hilltop is a Circle of Life experience. The manifestation of their faith and memorials to their departed loved ones sit next to the parish center where they celebrate the milestones of life—weddings, birthdays, graduations, and holidays.
There are few communities where heritage and tradition are so organic. I hope the people of St. Mary's appreciate their small-town life and their connections to God and neighbors in this beautiful place.
You don't need history, heritage, carved ornaments or paintings to embellish a Mass. The miracle of the Eucharist is enough. Nonetheless, these blessings can turn a house of worship into a home for the heart and soul of a community.