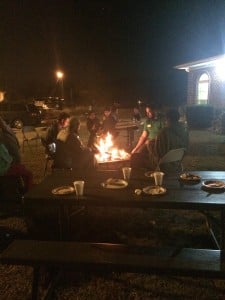 On November 17, members of the Islamic Center of Fredericksburg held a public meeting to discuss plans for building a new mosque in a somewhat rural area of Spotsylvania County. Trustee Samer Shalaby, an engineer as well as the mosque representative, presented designs to a packed house and tried to deal with traffic concerns. Partway through the meeting, a man interrupted and spewed vitriolic Islamophobic rhetoric. He drew some approving applause from some in the crowd, sadly, and due to the disturbance the meeting was derailed and ultimately was brought to an abrupt end by law enforcement concerned about an escalation and the potential for violence.
The planning meeting was rescheduled for December 11, but emotions were still running high among the group of citizens who tend to hold every Muslim responsible for the bad actions of a few, and ultimately it was decided that now was not a good time to try to push forward with the plans. Instead, the members of the mosque decided to hold an open house. This came on the heels of a very successful coat drive for Syrian refugees held the previous Sunday, which brought together the Islamic Center of Fredericksburg, Grace Church of Fredericksburg, and random wonderful people who just happened by. A large truck was filled with boxes and bags of coats, blankets, socks, and more, and warm wishes of support were given to the members of the mosque by those who helped out.
So the open house was set. A Facebook event was created. Snacks were procured. A small fire pit was placed in front of the building. S'mores were promised. Fervent prayers were said.
And It Was A Rousing Success.
I arrived with my family at the mosque a few minutes before the start time of 7pm. Mostly my fellow Muslims at that time, putting the finishing touches on the snack table and setting up a slide show on the opposite wall. The s'mores table was well stocked and the wood for the fire was ready to be lit. We went inside to pray and then waited for the arrival of guests. And arrive they did.
Over the course of the next two hours and more, the mosque filled up with Fredericksburg citizens from all walks of life. Young and old, college students and families, individuals and groups. I saw several clerical collars and at least one kippeh. People came, and milled about, and ate kunafeh and baklava, and talked and talked and talked. It was glorious. And loud. And hot inside.
There was no formal program. There were no breakout sessions with serious discussions of How to Curb Islamic Extremism or Why is my Biryani Crunchy?. There was no PowerPoint lecture. There was just a mosque, full from one end to the other with people coming out to show their support for their fellow citizens who happen to corner the market on headscarves and beard wax.
Small clumps of people formed and broke up, reforming around the snack table and moving outside to enjoy the crisp evening and get a bit of relief from the press inside. Muslims stood in earnest yet friendly conversation with people of other faiths. Hugs were given for no particular reason, and did I mention the s'mores?
Seriously, the UN needs to pay attention to this. The poor brother in charge of the s'mores table did not get to do anything else all evening. He was busy unwrapping Hershey bars and making sure none of the smaller children set the grass on fire. The smell of burnt marshmallows scented the air, and more tables and chairs were brought around the fire so people could sit close and engage in even more earnest conversations.
I met two friends I had previously only known through Facebook, and while I was circulating I saw such a diverse cross-section of the community that I was totally unable to stop smiling, and sometimes I was even a bit verklempt and on the verge of tearing up. This was goodness in its purest form. No speeches, no candle light vigil, no drama, just people stopping by to say hello, nosh some Middle Eastern snacks, drink some sweet tea, and say "you are welcome here".
"We just wanted to come out to show our support." That was the most common comment, followed by "We want to know what else we can do". One lovely German lady, Hannelore, pulled me close and whispered conspiratorially in my hear "You won't have any problem at the next planning meeting!", referring to the huge crowd of supportive people. Indeed, this crowd made the single racist protester (who had also come the day of the coat drive) all the easier to ignore.
To the citizens of Fredericksburg, Spotsylvania County, and other areas (some people came all the way from Northern Virginia to attend), I say, thank you and God bless you. May Allah bless you with all the best in this world and the next. You bravely and openly showed your support for a group that is very much under fire right now. You came, not with signs and slogans, but with smiles and hugs. It was a very personal, low-key, and sentimental night that all of us in the Muslim community will remember forever. You came with love and I hope we were able to return that love to you.
I hope new relationships were forged last night. And maybe going forward we will have those classes, those breakout sessions, those seminars to share lessons about Islam in a more formal manner. But last night, well, last night was perfect, a loud, boisterous, friendly cocktail party with tea and baklava. And did I mention s'mores?