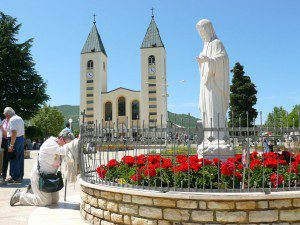 By Stephen Ryan
Bishop Hnilica was known as Pope John Paul II's "Right hand man" and was a critical influence in the Pope's views on Fatima and Medjugorje. Our Lady at Medjugorje said in 1991 that Medjugorje is the continuation and fulfillment of Fatima
Bishop Hnilica was at the Pope's bedside at the hospital as he recovered from his wounds from the assassination attempt and it was there Pope John Paul II began to believe in the message and importance of Fatima.
The popes's friend went go to Medjugorje often and came back with reports for Pope John Paul II.
In the highly influential magazine Vatican Insider Bishop Hnilica talked about his visits to Medjugorje and revealed some inside knowledge of the Pope's views on Medjugorje.
From Vatican Insider:
"After this, he asked me what I was thinking about Medjugorje and if I had visited that place. I answered that the official Vatican had not forbidden me to go, but that I was counselled not to do it. The Pope looked at me and said: "Go to Medjugorje incognito as you went to Moscow. Who can forbid you this?

The Pope did not officially authorize me to go, but he found another solution. The Pope showed me a book about Medjugorje written by Rene Laurentin. He began to read some chapters and pointed out that the messages of Medjugorje are closely related to those of Fatima. "Medjugorje is the continuation of Fatima. The Madonna appears for the first time in communist countries because of the problems that come from Russia," said the Pope, who had already embraced it as a mission of his pontificate.

I understood the connection. After talking with the Pope, I visited Medjugorje incognito three or four times. But the Bishop of Mostar wrote me a letter in which he asked me not to visit Medjugorje anymore, and that, had I refused, he would have written to the Pope himself. It seems that somebody had informed him of my visit. However, there was no reason to be afraid of the Holy Father."
http://vaticaninsider.lastampa.it/en/in … nilica-90/
Bishop Hnlinca was also a great friend of Medjugorje. I encourage readers to view this wonderful letter written by Bishop Hnilica about Medjugorje and the importance of prayer groups)
ssuggested reading – Russia, Fatima, Medjuorje- Is the great prophecy unfolding?