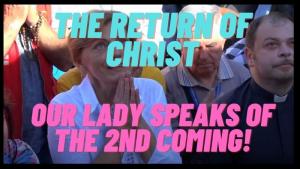 On August 2, 2017, in a rare message given to Mirjana, the Blessed Mother spoke of the 2nd coming of Jesus.
She assures us, the faithful, that her son will return to earth, saying: "When my Son comes to the earth anew, He will look for love in your hearts. My children, many are the acts of love which He has done for you."
For centuries there has been speculation of the 2nd coming of Jesus, but, during the past few years, it seems end-times fervor and talk of the return of Jesus has reached a crescendo as humanity increasingly turns away from God.
Through her messages the Holy Mother has clearly stated this time in history is now upon us. In the early days of the apparitions She said: "A great battle is about to take place.A battle between my Son and Satan. Human souls are at stake. Again through her messages, she has repeatedly warned the world that Satan is actively engaged in this great battle.
She says: "Dear children! These days Satan wants to frustrate my plans. Pray that his plan not be realized. I will pray my Son Jesus to give you the grace to experience the victory of Jesus in the temptations of Satan."
Then on August 25, 2014 an urgent message: "Dear children! Pray for my intentions, because Satan wants to destroy my plan which I have here and to steal your peace. Therefore, little children, pray, pray, pray that God can act through each of you.
May your hearts be open to God's will. I love you and bless you with my motherly blessing." It is worth noting that the Medjugorje visionaries have never said that the 10 secrets contain a prediction of the Second Coming, and in fact one visionary, Vicka, says that while containing predictions of very serious coming events, the nine confidential prophecies she has been given do not specifically address the anti-christ, the Second Coming, or the end of the world which the Catholic Church teaches will follow the Final Coming.
In a surprise to many people, Visionary Miryana, has said that after the secrets unfold, despite the difficulties,  a new and better world will emerge.
Michael Brown at Spirit Daily writes: "But elsewhere there have been a flurry of just such claims, including those of St. Faustina Kowalska — who in 1935 wrote that she had heard Christ tell her, "'You will prepare the world for My final coming'" and in 1936 allegedly heard the Blessed Mother say, "Oh, how pleasing to God is the soul that follows faithfully the inspirations of His grace! I gave the Savior to the world; as for you, you have to speak to the world about His great mercy and prepare the world for the Second Coming of Him Who will come, not as a merciful Savior, but as a just Judge."
Let us now read the August 2, 2017 message which contains Our Lady's revelation that Jesus will return to earth.
"Dear children, According to the will of the Heavenly Father, as the mother of Him who loves you I am here with you to help you to come to know Him and to follow Him. My Son has left you His foot-prints to make it easier for you to follow Him. Do not be afraid. Do not be uncertain, I am with you. Do not permit yourselves to be discouraged because much prayer and sacrifice are necessary for those who do not pray, do not love and do not know my Son.You help, by seeing your brothers in them. Apostles of my love, harken to my voice within you, feel my motherly love. Therefore pray, pray by doing, pray by giving, pray with love, pray in work and thoughts, in the name of my Son. All the more love that you give, so much more of it you will also receive. Love which emanates from love illuminates the world. Redemption is love, and love has no end. When my Son comes to the earth anew, He will look for love in your hearts. My children, many are the acts of love which He has done for you. I am teaching you to see them, to comprehend them and to thank Him by loving Him and always anew forgiving your neighbors. Because to love my Son means to forgive. My Son is not loved if the neighbor cannot be forgiven, if there is not an effort to comprehend the neighbor, if he is judged. My children, of what use is your prayer if you do not love and forgive? Thank you." God Bless and Thank you for watching.