This drawing took over 20 hours to complete. It is pen and ink with a little graphite pencil for the moon and her body. You can acquire the original or a fine art print of this image here.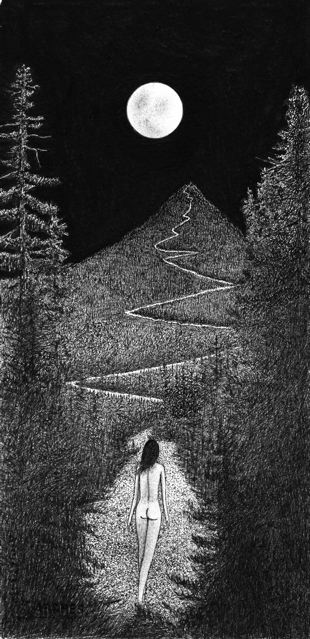 Our young woman continues on her long journey. She is very interesting to me. I sat down to draw one picture, but immediately this image emerged out of my unconscious and presented itself to me. It had to be drawn. Her nakedness is obviously symbolically important. Who shall ascend the hill? She who is naked. It is a long and treacherous climb because of the night and her vulnerability, never mind the judgment of others. But it is her courage, the sense of urgent necessity that drives her. Alone. She has no idea what or who awaits her at the summit. But she senses it is Ultimate. I recorded to YouTube one of her favorite songs yesterday.
I'm calling her Sophia.
Want help interpreting your dreams? Email me and we can arrange it: haywardart at gmail dot com (read more…)