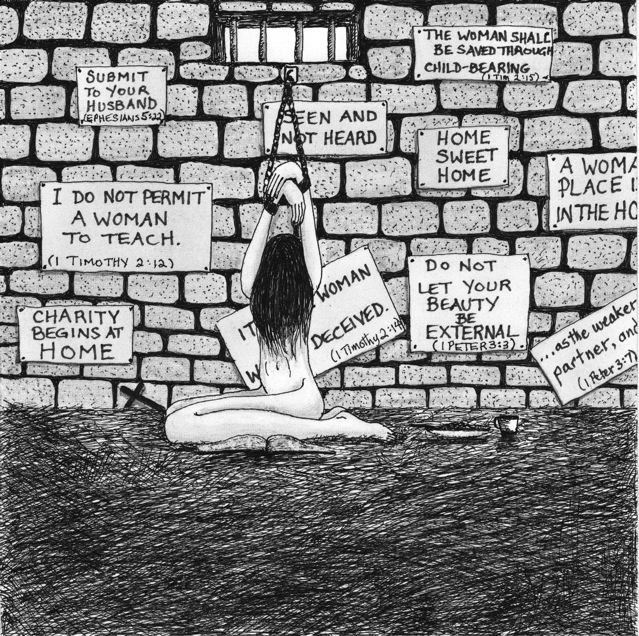 This one of Sophia, our young woman on her courageous journey towards her independence and wisdom, must have a beginning. This is how I picture her… trapped and surrounded by trappings. I find these pieces so emotional to create because I know she represents my spirit, my inner self, and its journey out of religious slavery towards independence and wisdom.
This one is called "Trapped". Sophia is chained to a stone cellar wall. She is surrounded by words of submission. Even though we might agree with the idea of a mutual submission, these selected words have been turned into words of servitude and slavery. They are being used to confine her, control her and keep her. Even the cross, which might be used as a metaphor of volitional suffering, has been turned into a tool requiring it. The bible laid before her which contains powerful words of liberation has become a text of bondage. There is food and drink as promised, but they are obviously kept beyond her reach. The only way she can enjoy them is if they are fed to her. Even her nakedness, her vulnerability, which should be beautiful and cherished, is used as a weapon against her. She must keep silence and not question her captors because it always results in chastisement.
Sure, the words are biblical and some of the promises are there… food and drink and light and shelter and the word of the Lord… but together they combine to create an entire environment of imposing domination and death.
But she is not hopeless. Her honesty about her brutal captivity has stoked a fire of fearlessness.
She is planning her escape.
You can buy the original or a fine art print of this image here.