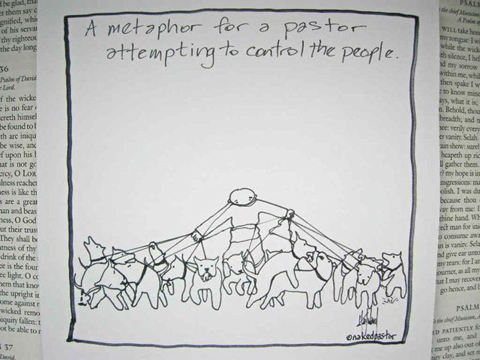 As a young pastor I tried to maintain control of the congregation and each person in it. It was not only a violation of the pastoral calling, but it was a violation of their humanity, their liberty and their own spiritual path. It was a disaster. I think, like this cartoon, entanglement was involved.
Then I became a parent.
Then I started to really mature.
Then I began to try to understand myself, others and human nature in general. I wanted to become truly wise. I wanted to be a good pastor.
That's about the time I threw away the leashes.
Buy the original cartoon drawing.
Buy a print of this cartoon.
I have a book full of cartoons like this one. "Nakedpastor101: Cartoons by David Hayward", from amazon.com, amazon.ca, amazon.de. Great for laughs and serious discussion!