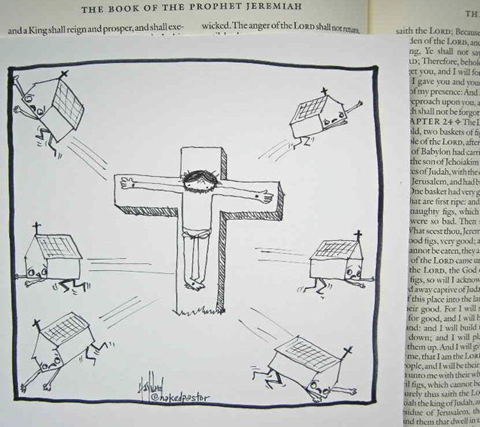 The key to understanding Jesus and most of the New Testament, the real secret, is the cross. Failure to recognize this is doomed for a more critical failure.
The cross intersects straight through human experience. It doesn't help to deny it, ignore it, wish it away, or mutate it into something marketable. So many of us and our churches are doing everything possible to flee from the reality of human suffering. It is a permanent fixture in the world.
Once that is admitted and truly seen, then authentic resurrection life emerges.
Buy the original cartoon!.
Buy a fine art print of it.
If you haven't bought my book of cartoons, I invite you too. It addresses concerns such as this. "Nakedpastor101: Cartoons by David Hayward", from amazon.com, amazon.ca, amazon.de. Great for laughs and serious discussion!