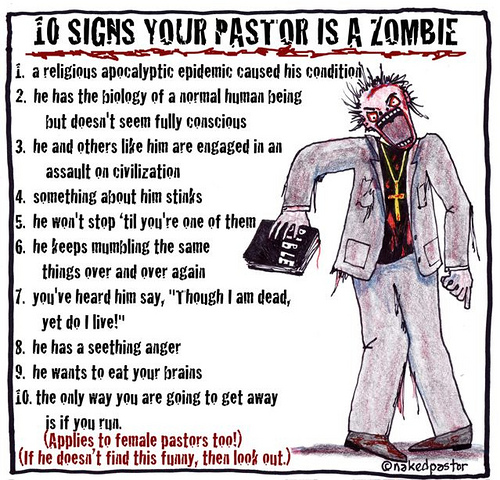 I remember so many years ago when I took my first personality test. When my results came back, I ripped open the envelope to see what they said. "JERK". No, just kidding. "INFP". I was intrigued to discover that there aren't many of us in the world. What an amazing experience that was. It was like a revelation. When I shared my results with my spiritual director, she cautioned me:
It will be very difficult to not see your personality as the best. It's not. It's just different. You are one among sixteen. And as a pastor, you will have to be very, very careful to respect, love and appreciate all kinds of personalities. You don't want a church full of INFPs!
That was probably the day when my passion for unity in diversity became more central.
Well, this is my last zombie cartoon. At least for now. You never really know with zombies. They can rise from the dead at any time.
Buy a print of this cartoon.
(Download my ebook "nakedpastor 101" for .99¢.) To download the ebook, –> click here! <–
Order your hard copy: