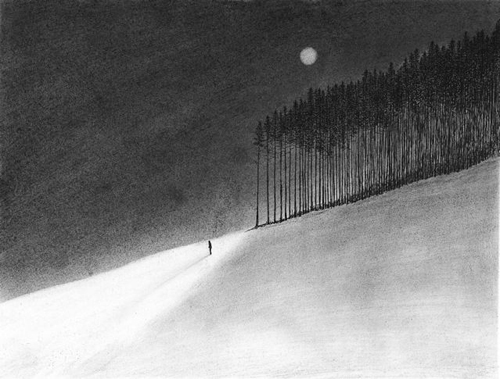 Sophia "Pioneer": (Buy the original drawing. Or buy a print.)
This image "Pioneer" partners with my One Minute Message on Youtube from the other day, "In Praise of Pioneers" (click here to watch it).
Our brave Sophia is a pioneer. She is separating herself from the mainstream, symbolized here by the forest, the community of trees. She simply must navigate her own spiritual path, blaze her own trail and find her own spiritual home or she will never find her happiness.
It's been over two years since I left the professional ministry. I've been through many traumatic experiences with the church that, for some reason or another, have left me outside of it. Each time, I said, "never again".
For the past while I've felt like a bad son because of it… a sad and bitter son… a disappointment. I've felt like my "never again"s have been a weakness.
But yesterday while going for a walk I was given a revelation… a different perspective on my story. I realized that after each traumatic separation from the church, I have taken a couple of years to recover, but then I get back in the game. But my return to the game has always been further away from center.
Perhaps these deaths have actually been births into what I'm finally supposed to be doing. Perhaps my place is furthest outside the city gate. Perhaps because of fear or insecurity or a desire to please, I would never go far outside the city gate voluntarily, so I had to be coaxed by these small deaths and births to arrive where I belong and need to work.
So, even though I know I've been a pastor on this blog, I intend to be more intentional about it. I am a pastor. That's what I'm trained to do, educated to do, and experienced to do, and feel called to do. It's what I'm passionate about. Of course, I will mainly speak through my art and cartoons. These are my parables. But I will also work through my writing and speaking… one on one and publicly. Also, of course, I am definitely free-lance.
I intend to start something locally. I'm not sure what yet. At least I will start hosting talks… safe places where fellow-pilgrims can meet and talk.
Like Sophia here, I'm going to be a pioneer. I'll do it alone if I must. But I'd love some company.
Who's with me? Online or local.