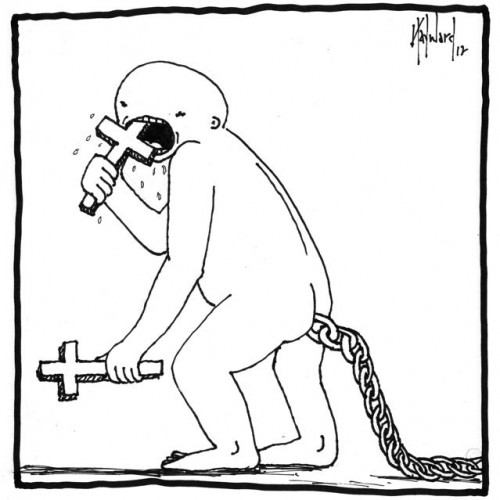 Purchase the original drawing or a print of this cartoon!
I always heard the freedom in the gospel and it always baffled me when I ended up in a religious culture that manufactured chains.
It's a cruel trick:
religion offers us freedom
we join to get free
the religion, through rules, regulations and expectations, binds us in chains
start over: the religion offers courses in getting free from bondage
I remember singing beautiful worship songs about "loose these chains" or "set me free", and the whole while  I was singing it was the religious bondage I wanted freedom from.
Well, I finally did it. All by myself. No help from anyone else but me! I made the step for my own freedom. It was probably the scariest thing I've ever done. But I'm free, free, free at last!
(This cartoon was inspired by some graffiti I saw on a brick wall of a huge monster eating trees and shitting houses and industrial buildings, obviously critiquing our destroying the environment for development. I don't know who the artist is, but I wanted to give credit.)