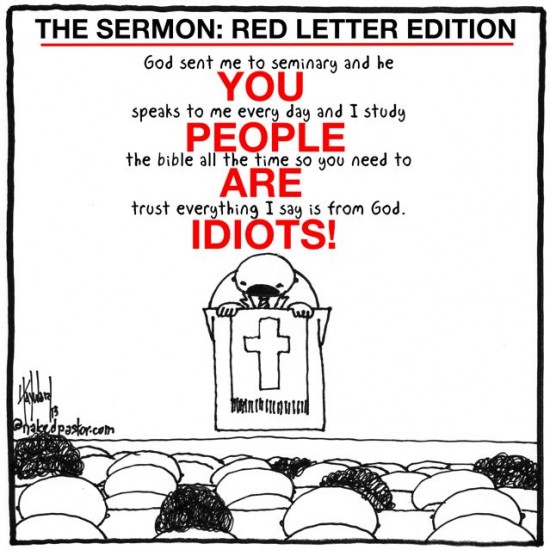 Purchase a print of this cartoon.
The danger of feeling a special sense of privilege when you're in a position of influence is real and constant. When one has been raised on the bible and "hearing from God" and does this full time and has been preaching for years, the temptation to consider yourself the expert is sometimes subtle but surely strong.
I've sat under preaching that is overtly condescending. There's no discernment necessary. You are being verbally slapped around. But I've also sat under preaching that leaves me feeling… I don't know… kinda… you know… crappy! Sometimes I'm not so quick to catch on. Especially when every one else is, like, "Wow! Wasn't that an anointed message?" But eventually I always finally read between the lines and see that we were being slapped around this time too, only with velvet gloves.
True story: I visited a church some time ago with a friend. I was a little gun-shy, having freshly left the ministry and the church. My friend wanted me to hear this teacher. So I went. I really enjoyed the message. It was very insightful, full of wisdom, and he was so gracious and gentle and considerate. Never once did I feel myself raring back in my seat, but bending forward to hear more of what he had to share. Because that's what he was doing: sharing. His whole attitude was, "You know, this is just what I'm thinking about and wrestling with. I wanted to share it with you. If you don't agree with it then just leave it. That's okay. Let's just gather around this thought and explore it together and we'll take of it what we find helpful." It was wonderful.
After the service I said to my friend, "I really liked that. Now, he's the kind of pastor I could hang out with. He's real, humble, honest and in no way condescending."
"Oh!" my friend said, "He's not a pastor. He's just a lay preacher."
Figures.
ALL MY ORIGINAL ARTWORK IS BEING TAKEN DOWN OUT OF MY ONLINE STORE. I'M ACCEPTING REASONABLE OFFERS, SO IF YOU'RE INTERESTED, PLEASE CONTACT ME: SHOP!