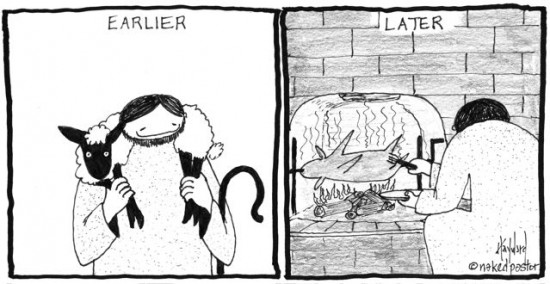 Welcome to SHEEP WEEK!
The problem with any analogy is that those is power will stretch it to its unintended extremes to secure and increase their authority. This is the problem with the shepherd/sheep analogy. What was originally intended to illustrate care mutated into illustrating abuse. The famous Ezekiel 34 describes this sad mutation:
Woe to the shepherds of Israel who only take care of themselves! Should not shepherds take care of the flock? You eat the curds, clothe yourselves with the wool and slaughter the choice animals, but you do not take care of the flock. You have not strengthened the weak or healed the sick or bound up the injured. You have not brought back the strays or searched for the lost. You have ruled them harshly and brutally. So they were scattered because there was no shepherd.
This pastoral analogy certainly wasn't to authorize the shepherds' neglect, bullying or consuming of the sheep. But this is the saddest part of the application of the analogy: those who identify themselves too much with the sheep may willingly suffer this neglect, bullying and consumption from their leaders because that's what shepherds do and that's how sheep behave. Throw into the mix Jesus' advice that we should be dumb like sheep to the slaughter, and you have a green light for not only the infliction but the reception of abuse.
The Gospel of Thomas tells the story of the lost sheep in a different way than the canonical gospels do. The writer claims that Jesus left the 99 to search for the one that was lost because it was the fattest and choicest of all the sheep. When Jesus found the sheep, he said to the sheep, "I love you more than the 99!" If sheep had any brains, which they don't, the found sheep would know that the shepherd loved him the most because he promised to be good eating.
For those who were choice members of churches and were consumed by it, you know first-hand the dark side of the shepherd/sheep analogy.