Many religions offer (or require, depending on your perspective) daily practices for their adherents. Ranging from prayers and studies of texts, to worship services and holy days, members of various spiritual movements center their lives around a daily, weekly, monthly, and annual compass of internal and external rites and practices. As I face the upcoming transition of both of my sons starting college over the next three years, I have been contemplating what a personalized daily pagan practice would look like and how it might help me through this challenging period.
So at Samhain I put together a Wheel of the Year Plan for myself, based on my interpretation of the pagan calendar. I hope to fine tune it each year as I pick up new practices and activities. In addition to my insight meditation, the observances of the Women's Ritual Circle at my UU fellowship, and family sabbat celebrations at home, I have begun to use this plan to add more depth and meaning to life on a daily basis.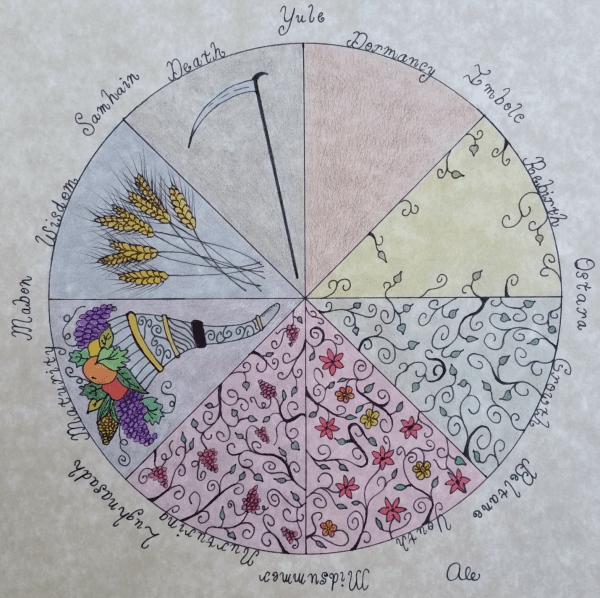 Like many practicing pagans, I kick off each new season with a personal sabbat ritual. This generally involves time at my altar casting a circle, burning candles, and performing seasonally appropriate activities and meditations. I'm not going to share details about these observances in this article, partially because there are so many helpful articles out there already on this topic and partially because my altar rituals are deeply personal and highly fluid according to my needs at the time. The focus of this article is instead on establishing a daily pagan practice.
In addition to my altar ritual, I enjoy doing activities throughout the sabbat evening and the following day. These generally involve my family and take place at our home. Over the years I have accumulated a list of craft, cooking, and symbolic tasks that have become favorite traditions. I sometimes try new projects based on ideas from other people. My main goal in this celebration is to mark the transition between the old season and the new. That is what it means to turn the wheel of the year. Sabbats are small rites of passage for me as I shift into a new frame of mind and begin the next phase of the cycle.
This is where the "theme of the season" (listed below) comes in. At Yule this year I will mark the end of my daily contemplation on the theme of death and darkness, which I began at Samhain, and begin focusing on the theme of dormancy and healing instead. I like to find innovative ways to delve into these topics each day. I've learned that the TED Talk video series (available on YouTube and the TED Talk website) offers many interesting lectures related to my themes. They provide excellent fodder for thought and occasionally give me a new perspective on a theme. During this season, I have been reading "The Book of Dead Philosophers" which provides vignettes outlining each philosopher's outlook on death and then tells how they died, sometimes with darkly humorous results. A month and a half is a good amount of time to work through a relevant book day by day. The Internet is teaming with other articles, videos, and images that relate to each of my seasonal themes. I never need to worry about running out of ways to spend 10-15 minutes a day examining a subject. And if I did, then I could just allocate a portion of my meditation time to focusing on the current topic.
I am finding that the theme of the season becomes a filter through which all of my daily activities and occasional surprises and crises pass. This modifies the way that I view life and offers me insight and wisdom that I might not have discovered otherwise.
[As an aside, I was concerned that thinking about death for a few minutes every day for a month and a half would cause me to become anxious and/or depressed. What I've found instead is that it has improved my perspective on what is important in daily life and what isn't, and has taught me to look at life as an exceptional blessing that I can't take for granted even for a moment.]
Another activity that I enjoy is changing the essential oils that I add to my homemade face and body moisturizers. A new scent related to the theme of the season helps center me in my place on the wheel of the year and reminds me of my current focus. I also enjoy dressing in colors keeping with the theme. Doing so helps keep me in the right frame of mind. Therefore, my plan includes essential oils and colors for each portion of the year.
Finally, I like to mark the passage of the season with a few larger activities (listed below) in the evenings or on weekends when I have more time. These serve to help me refocus on the daily theme if my practice has wandered due to the typical stresses of life or events outside of my control. These activities may be as simple as taking a walk to enjoy new spring growth, or as complex as planning a weekend cabin retreat with my husband so we can unplug from the digital world and spend a couple of days meditating, doing yoga, and recentering ourselves for the months to come.
In establishing a plan for a daily pagan practice, I think there are two key factors to ensure success. First, the plan must be tailored to your own needs and beliefs. Perhaps you'd prefer to focus on a particular god or goddess each season instead of a theme. Maybe you'd like to incorporate crystals or tarot cards into your daily habits. You might even want to structure your plan around activities that you currently practice with a coven or CUUPS group. There are as many possibilities as there are pagans. The second factor for success is that you have to remain flexible even within your own plan. If you neglect your practice for a couple of days, the season isn't ruined. Just pick it up the following day. If the theme you've chosen for the season doesn't seem to resonate with you after you've begun, change it. Follow the instincts you've honed as a pagan and you won't go wrong.
I look forward to sharing how my daily pagan practice is evolving and affecting my life over the coming twelve months. Yule is a time for new beginnings, and I think this is an excellent way to start the cycle anew.
I wish you a wonderful Winter Solstice and a fulfilling turn of the wheel this year.
My Wheel of the Year Plan
Yule
Favorite Sabbat Activities
Stud an orange with cloves and hang it by a ribbon in a south-facing window to welcome the returning sun
Meditate beside a sunny window
Decorate the house with fresh evergreens
Have a Yule feast
Find a Yule log in the forest
Have a Yule fire with the new log and the remnants of last year's log
Sabbat Foods: mulled wine, the best of the vegetables and meats preserved from the year's harvest
Altar Addition: bowl of earth
Theme for this season: dormancy and healing
Essential oils: lavender and chamomile for soothing and healing
Color: brown
Special activities for the season: plan unplugged retreat days for meditation and yoga
Imbolc
Favorite Sabbat Activities
Make a corn husk doll and lay her in a basket filled with white flowers to symbolize the rebirth of the maiden
Make butter
Set candles in the windows to encourage the returning sun
Sabbat Foods: fine cheeses and homemade bread and butter
Altar Addition: bowl of seeds
Theme for this season: rebirth and beginnings
Essential oils: ginger and nutmeg to encourage regeneration
Color: yellow
Special activities for the season: grow sprouts in the kitchen; watch for returning birds at the feeder
Ostara
Favorite Sabbat Activities
Hide plastic eggs filled with small treats throughout the house as surprises for loved ones
Decorate real eggs
Bless the garden with compost from the bin and a fertility chant
Decorate the house with flowers
Clean the meditation room
Move the altar back upstairs to the meditation room
Sabbat Foods: eggs, hot cross buns, baby lettuce salad
Altar Addition: vial of water
Theme for this season: growth and health
Essential oils: peppermint and spruce to stimulate growth
Color: green
Special activities for the season: start indoor seedlings for the garden; try new healthy recipes; take walks to look for early spring changes
Beltane
Favorite Sabbat Activities
Collect morning dew to anoint my altar
Cut flowering briar branches, place them in a large vase, and tie colorful ribbons to each branch
Set seedlings from Ostara out into the garden
Perform a tarot reading for the harvests ahead
Plan a romantic evening with my love, including a large fire
Sabbat Foods: savory oat cakes with scallions and spring greens, cocktail with fresh honeysuckle
Altar Addition: flowers
Theme for this season: youth and playfulness
Essential oils: jasmine and yling ylang for passion
Color:pink
Special activities for the season: tend the young garden; plan spontaneous outings and romantic evenings
Midsummer
Favorite Sabbat Activities
Spend the day outdoors
Have a large fire at sunset
Put out seeds and treats for the birds, squirrels, and chipmunks
Tend the garden
Sabbat Foods: fresh seasonal garden and farm produce, white wine, fruit
Altar Addition: new candles
Theme for this season: nurturing and compassion
Essential oils: rose and coriander for caring
Color: burgundy
Special activities for the season: attend Firefly music festival; plan quality outdoor activities with family and friends
Lughnasadh
Favorite Sabbat Activities
Pick and preserve garden vegetables
Preserve farm produce
Eat dinner outdoors
Drink a toast to the waning sun and pour out a libation of ale and a sacrifice of grain
Sabbat Foods: fresh seasonal garden and farm produce, beans and cornbread, summer ale
Altar Addition: bowl of mixed dried grains
Theme for this season: maturity and responsibility
Essential oils: neroli and vanilla for balance
Color: purple
Special activities for the season: complete important tasks that have been put off; prepare for the coming work and school year
Mabon
Favorite Sabbat Activities
Clean the sun room
Move the alter back downstairs to the sun room
Write out a list of the year's blessings
Bless the garden with a chant of thankfulness
Research and share a harvest myth at dinner time
Enjoy a fire after dark
Sabbat Foods: preserved meat and produce from the year's harvest, red wine
Altar Addition: basket with apple and hazelnuts
Theme for this season: wisdom and perspective
Essential oils: thyme and bergamot for insight
Color: blue
Special activities for the season: go apple picking; take long walks; write out memories and sort photos
Samhain 
Favorite Sabbat Activities
Remove dead plants and cover the garden with straw
Light candles in the windows for ancestors
Put out seeds and nuts for animals preparing for the winter
Perform a tarot reading for the year ahead
Burn the corn doll from Imbolc and sprinkle her ashes over the garden
Sabbat Foods: apples, popcorn, candy, pumpkin seeds, nuts, mulled cider
Altar Addition: black cloth and empty bowl of air
Theme for this season: death and darkness
Essential oils: rosemary and cypress for anointing
Color: black
Special activities for the season: fast for a day; read obituaries; visit a cemetery