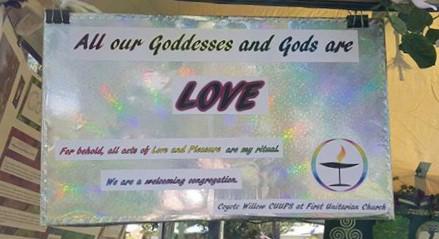 The Land of Enchantment's enchanting Pagans just wrapped up a record-breaking Pagan Pride Day here in Albuquerque! We gathered over 1200lbs. of food and nearly $200 for the First Unitarian Church Food Pantry. Ours is the largest single donation that the food pantry receives every year.
In addition, two CUUPS groups were in attendance, as well as members from a third. Coyote Willow CUUPS (Albuquerque) and Moon Spirit CUUPS (Rio Rancho) had booths, and members of Desert Spirit CUUPS (Las Cruses) were volunteering at the main PPD booth.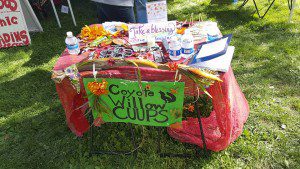 Coyote Willow CUUPS had an excellent time this year. We took 1st place in the altar contest for our reciprocal blessing altar. "Take a blessing, leave a blessing." It was fascinating to watch what people took with them and what they left. The altar was busy all day and the contents constantly changed. We also had a book available people to write blessings inside, for those who wanted to leave something but didn't have anything physical. We will post some of the blessings on our Facebook page for everyone to enjoy. Some people left money, and we ended up accidentally raising $30 for the Food Pantry.
All in all, it was a glorious day. As a Pagan and a UU, this particular event warms my heart in so many ways. I am glad that CUUPS members are so well represented in the community and as volunteers!
(Raven Reed Starr is chapter contact for Coyote Willow CUUPS which is part of First Unitarian Church of Albuquerque.)