This is the final article of a three part series, but don't worry – each article stands on its own. However, here's the link to the first article, and then yesterday's article,  in case you want to see what you missed.
Three weeks from today delegates across the country and at the UUA General Assembly will be using ranked-choice voting, in which delegates rank the candidates in order of preference: 1, 2, 3. the elect the next President of the Unitarian Universalist Association. Her term in office will continue until the 2023 General Assembly. Back in January we solicited questions from our readership to ask the candidates. Today, we will be looking at the topic which received the most proposed questions – the challenge of bringing people of different theologies and world-views into conversation, both in interfaith and interfaith contexts.
Today's questions, which are the list ones of this series:
How would you, as UUA President, foster multi-faith efforts? And what role do you see earth-centered religious leaders playing in these efforts?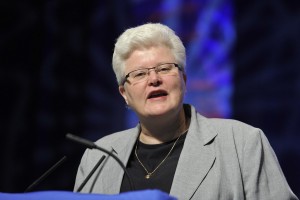 Response from Jeanne Pupke:
We have many interfaith partners, whom we have joined in witness and service. Yet it seems we have not successfully connected in enduring partnerships that are built on lasting connections. There is some irony in this as we, as UU, are always involved in working with multiple religious positions within our own congregations.
UU faith aspires to hold different theological viewpoints and still share covenanted community. When that is working, it feels wonderful. People bring their whole selves to the community and create space for others to do the same. It creates the deepest sense of welcome. But when instead we struggle, feel ourselves working over or against groups with differing viewpoints, it feels very frustrating and hard to be a Unitarian Universalist. How is this best done. What have we learned about making this work? Where are the books and classes on this common UU topic? For a challenge so prevalent among us, we are inventing our approach congregation by congregation. Our UU Association can help identify who is succeeding in this work and how, but it can also name the importance of these lessons to Interfaith work.
The parallels on those intra-religious experiences in our interfaith work, especially our shared justice work, are strong. When we come together across our differences, it can feel so amazing to be a part of it. However, when we struggle to find agreement on how and when, we fail to see what we can do together, and it feels as though we have failed the very idea of religion. It seems in these efforts we are often focused on events and seldom on simple relationship building. However, relationship building will serve us all in living our values well. Can the UUA spend time and encourage building lasting relationships across faiths when there is no march or witness? I believe we can and should, and would like to foster such ideas in our movement.
As President, I would also like to examine the history of our connections with other faiths a bit more deeply. We are a small faith and working with other faiths makes sense. But we need to know what kind of partners we have been through time. Our practice must be mutual and collaborative but not afraid to lead too. We should also must remember that our most frequent partners have been nonprofit organizations and organizers. We need to be clear in how we can be a strong partner to both religious and nonprofit organizations.
I recently spent times with MPOLIS, the training for interfaith fusion work organized by Dr. William Barber's ministry partners. Eleven UUs were there working with both religious and nonprofit organizations, unions, and seminaries. Rev. Barber said that the fusion of all those sectors is needed to create the kind of coalitions that can be effective in the public square. Only when power holders see the diversity and commitment of such groups will they become convinced they must yield to the demands of the people. That is a powerful and correct analysis. If elected President, I will be following that advice to support us in strong, diverse partnerships.
I believe the Earth-Centered communities among us have the opportunity of better communicating to the many UUs who have not really known the perspectives that support pagan practice. In our services that are so often in the white liberal Protestant format, participants can be engaged in a familiar format. Service can be disembodied and overly disconnected from the lived experience. UU Pagan services, service elements, practice communities, and study groups can offer a more embodied tradition and a needed connection to the natural world. We need leaders who can, in the formats UUs know, introduce wisdom from and elements of Earth-centered rituals. There is opportunity for deepening community thought and understanding about what connects us all to the earth and how that connection requires us to work to heal the injury humans have caused to the planet.
---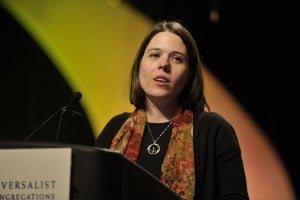 Response from Susan Frederick-Gray:
I have been encouraged to see the work that former President Peter Morales began in working with the United Church of Christ on convening multi-faith conversations. As UUA President, I would be committed to continuing this work and working nationally with interfaith partnerships. A key part of my platform in the Presidential campaign is the critical need for strong partnerships across Unitarian Universalism and beyond.
A few things strike me in this moment of time. Humanity has never been as connected across the globe than we are today, through social media, technology, and the Internet. And yet, voices of nationalism, division, and fear are on the rise. It is exactly in this moment when partnership is critical to resisting the messages of fear that separate people. Collectively, there is a need for faith communities to come together to witness for human rights, racial justice, combatting poverty and working for climate justice. This is work that could be advocated for more powerfully through interfaith networks.
As UUA, President I would bring a strong commitment to partnership to work on larger national and global issues. Partnership has been central to my leadership and ministry from my early days in interfaith congregation based community organizing (CBCO) in Tennessee and Ohio. In fact, one of the key relationships I would bring to the Presidency is with the General Minister and President of the United Church of Christ, the Rev. John Dorhauer. He and I have worked together in Arizona for immigrant rights and marriage equality. Recently, Dr. Lee Barker, the President of Meadville Lombard Theological School commented on the importance of having a sense of mission or purpose to multi-faith efforts. He talked about efforts to bring faith groups together purely for building understanding are often not as effective or sustainable as efforts to come together for a clear purpose or mission to, to achieve something together.
Today, in this country, we face a moral crisis. The realities of mass incarceration, mass deportation, the threats to health care, voting rights, to the environment and sovereignty rights by extraction industries, are issues that many faith traditions can find common cause to push for a moral agenda that demands policies that increase voting access, economic policies that foster greater equity, and the ending of mass incarceration and detention. franchisement, liberation and not just a political or economic challenganot only a political and economic challenge, for example, resist extraction industries, fight mass incarceration, demand economic policies that foster great equity, then partnerships grow deep and they last. This is the spirit I would bring to interfaith efforts and I believe that Unitarian Universalism can be helpful in building interfaith bridges because of the theological diversity within our own tradition.
I believe our work must be in partnership with Indigenous leaders and other earth-centered religious leaders. In Phoenix, our initial work on immigrant rights and resisting the brutal policing of Sheriff Joe Arpaio was by partnering with Tonatierra Indigenous Cultural Center. Because of the very profound presence of earth-centered language and spirituality in Unitarian Universalism there was a significant amount of common ground we could find in our partnership, not just in the work of justice, but in the spiritual and religious language we used.
---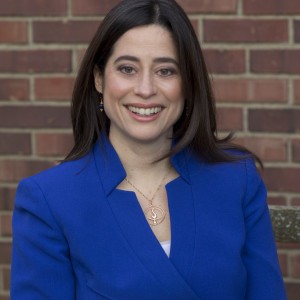 Response from Alison Miller:
One of the strengths of our faith is how we manage to create one religious community out of a people with a wide spectrum of theo/alogies, beliefs, and philosophies. I am conscious of this every time I look out at my congregation and see atheists, agnostics, and theists of all stripes and people who identify with the wisdom in Christianity, Buddhism, and earth-centered traditions sitting side by side. We are a home for multi-faith families and individuals whose religious paths are multilayered and draw from more than one source. What makes this possible is the covenant of our faith, which invites us to live by a set of ethical principles and to ground our religious path in the wisdom of multiple sources. We make space for a spectrum of beliefs and practices through our larger community-wide worships and offer affinity groups to explore a particular path more deeply.
As a candidate for UUA President, I am interested in expanding the resources and offering trainings for ministers and lay leaders around religiously diverse worship, including continuing education around cultural misappropriation. Another objective I have for congregations is continuing education around facilitating healthy conflict, including the creative tensions that arise across diverse spiritual needs. Affinity groups, such as the Covenant of UU Pagans, the UU Christian Fellowship, the UUs for Jewish Awareness, the UU Buddhist Fellowship, and the UU Humanist Association, could be vital partners with the UUA in furthering these intrafaith goals that involve supporting UU congregations/ covenanted communities that deeply nourish our spirits.
Our practice of listening, learning, and growing in faith in a religiously plural context is also a strength we bring with us as we engage in the working of community building and justice efforts in the wider world. Over the last twelve years of serving in Morristown, I have built up a network of relationships with faith leaders in Northern New Jersey. I have also served as chair of the Morris Area Interfaith Clergy Council. We have worked together to counter Islamophobia, to reduce gun violence, to end police brutality, to work for immigrant justice, and to achieve marriage equality. Unitarian Universalists have played a critical role in interfaith dialogues, worship services, and projects as we seek to navigate the complexities of our similarities and differences in faith.
If I am elected president, I plan to continue these efforts by partnering with my counterparts – faith leaders of national religious organizations – in order to leverage the power of faith communities working together towards common goals. As I have done in the past, I will be sure to include faith leaders of earth-centered traditions as a part of these collaborative efforts. I am feeling called more and more to join my voice, witness, and leadership abilities to interfaith efforts of national significance. I showed up at Standing Rock in North Dakota to support indigenous rights and to protect our water, and I also served as a chaplain for "We Belong Together: 100 Women 100 Miles Pilgrimage," an alliance of immigrant justice leaders from around the country.
---
Thank you for reading these articles. We hope that they have provided you some more knowledge about the candidates running for the UUA Presidency and will (if you are a delegate to GA) allow you to cast a better informed ballot for the candidate of your choice.
If you are not a delegate and these articles have prompted you have an opinion on these candidates we recommend you contact your minister or church board member to see who is representing your church at General Assembly.
For more information about the individual candidates for the UUA Presidency: