It is difficult to believe that it's been a year since my Poppi died. He had a larger than life personality, and could almost have walked straight out of the history pages where his hard drinking, hard living idols such as Sam Houston now reside. He was also transgendered, and suffered terribly for it. His life was one filled with anger and frustration, trying to reconcile two very different sides of himself. Because of these difficulties Poppi wasn't my custodial parent, but we remained close, and I tried my best to be the support system he needed.
Towards the end of my Poppi's life I saw a transformation happen, one that might have been the greatest gift anyone could have given him. At the last senior living apartment he lived in, his new neighbor took one look at him and decided that he was her best friend. She fussed over him like a banty hen with a difficult chick, forced him to be more social than his curmudgeony nature might otherwise have thought reasonable, and got him involved in her many activities in ways that he could engage. His fierce independence softened under the love she poured into their relationship. The most important aspect of their relationship, however, was that he was also able to help her in many ways. For the first time in a long time, perhaps ever, he had a relationship based on reciprocal care and mutual respect. He was able to be a giving person, and benefit from the knowledge that he was important and worthy to someone. Poppi's best friend told me that he treated her better than else anyone had in her life, and I am immeasurably grateful that he transitioned into the next great adventure with her as his friend. I am humbled by her ability to give him the opportunity to be giving, and how that came at the end of his life when he needed it most.
Being in Relationship with my Chapter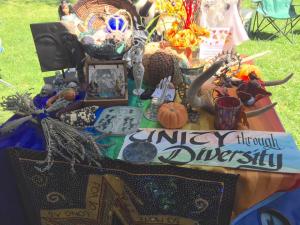 Watching how transformative the reciprocal relationship was for both Poppi and his dear friend has brought me to examine areas of my own life. Not surprisingly, I have inherited my Poppi's fierce independence. I am currently the facilitator for Coyote Willow CUUPS. My official title is Contact Person. We don't have much official leadership right now, so I fill in what needs to be done as I can. In all honesty, I probably do too much. It's difficult for me to ask for help or say no when something needs getting done. I get so much personal satisfaction from the work I do for the CUUPS group that it is more joy than trial, especially since I am not working at the moment. I need to be mindful that just because I can do something doesn't mean that I need to be the one to do it. Even if it would be easier. Even if I know how. Even if I think, as I sometimes do in the deepest reaches of my soul, I could do it better or faster. I need to give other people the opportunity to have that same deep satisfaction from giving to the group that I am getting. I need to allow them space to make mistakes and grow from them, just I have. Sometimes that means letting them make mistakes I've already made, and it's hard to release control and watch it happen.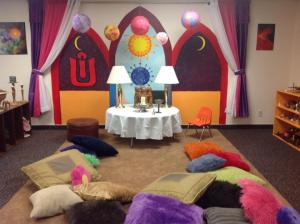 Walk into any volunteer group and you soon learn who the heavy lifters are. The problem often becomes one where most other members only feel valued as filling in along the periphery by doing the grunt work and they don't feel like they themselves have ownership in the group. My goal as group facilitator is not just to produce pagan rituals for our members, but to give each of our members the opportunity to feel as important and worthy to the group as I feel. When members feel important to the group the whole group benefits, not just the individual members. Members feel safe to try new things, explore, experiment. Last year two of our Sabbat were led by people doing it for the first time, and I felt like a proud banty hen myself. I want to have the sort of group where people feel empowered to take risks like this. It's messy, it's a little scary sometimes. It is, as any parent knows, much harder than just doing it myself. But, by doing so, I am giving the gift of giving to others. And, I am growing myself.
(Raven Reed Starr is chapter contact for Coyote Willow CUUPS which is part of First Unitarian Church of Albuquerque.)