The Power of Multiculturalism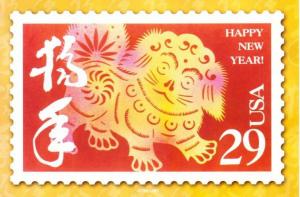 One of the strengths of the United States is its diversity which extends to appreciating a variety of religious and social customs. Just as Nature thrives in multiplicity, we too are enriched by diversity.
This stamp, issued for the 1994 Year of the Dog, is part of a series representing all the animals of the Chinese zodiac, an indication of our desire, as a nation, to honor those who immigrated here. While we have not always had the right attitudes as national policy we have also corrected prejudice and injustice. The Chinese Exclusion Act was in effect for decades but ultimately was seen to be unjust and repealed.
I have lived in the San Francisco Bay Area for decades where one of the largest Chinese communities exists outside China. I have always been drawn to Asian cultures and philosophies and have an appreciation of folk traditions. As communication and knowledge about this earth-honoring worldview continues to cross the artificial constructs between cultures, these beliefs are flowing into the Western post-industrial culture at a rapid rate. Multiculturalism is a gift I treasure. For me, the Chinese Astrological Calendar and various styles of Asian art are examples of folk beliefs that are still available to modern society. Here are two examples.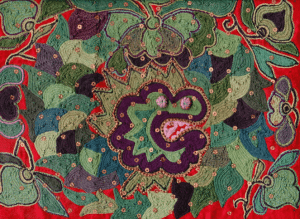 These mystical animal images appear in upper class ornamentation as well as in folk art. When I attended the United Nations Fourth World Conference of Women in a town outside Beijing, I purchased this ancient embroidery sold at a modest price by a street vendor. I was told it was part of a ceremonial robe and that it is perhaps a dog, or a lion placed there for protection.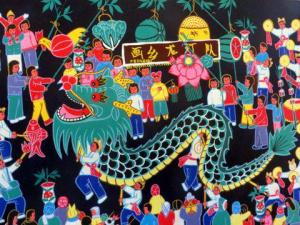 I also found in Beijing this lithograph by a famous Chinese artist featuring the ever present Dragon Parade staged in a village. These stylized scenes are very popular among the Chinese in China as well as visitors. Animals, flowers, fruits and lanterns on polls, speak to the connection with all beings.
Chinese-American Communities
Chinese communities exist in many cities in the United States and around the world. The Chinese New Year celebration in San Francisco is one of the largest in the world. It first began in the mid-1800s, when immigrants from China came to the U.S. looking for work because they had heard of the Gold Rush in California. Many decided to stay in San Francisco.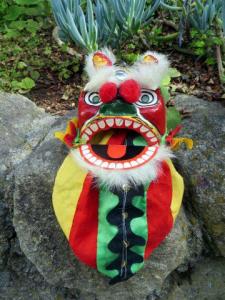 This small good-luck Chinese lion is one of the many souvenirs available here. Its bright colors and animated expression capture the energy of the festival itself which lasts for several weeks. For me these community revelries are animism incarnate.
The main draw is the Grand Parade, one of the largest nighttime pageants, which will be held on Saturday, February 24 starting at 6:00 pm PST. More than three million people watch the parade every year. You can view it at: San Francisco Chinese New Year Parade broadcast
When planning the first full scale New Year's festivities in the 1800s, both Chinese and American traditions were incorporated. The planners loved the idea of having a large, colorful parade, though that was not done in China at that time. Today there are more than 100 parade entries which include participants marching down the street with flags, lanterns, drums, floats accompanied by dancers. Most popular is the 28-foot-long Golden Dragon. A team of more than 100 people moves this amazing creature through the streets of San Francisco.
Contemporary Interpretations of the Year of the Dog
Here are two lighter renditions of dogs that reflect the charm and pride that canines often exhibit as well as their happy and cuddly presence. Remember these qualities during this year as well.
In the West, dogs are often seen as auspicious and used metaphorically to evoke good fortune. They are used in the English language to describe human characters. "Lucky dog" is a lucky person; "top dog" a powerful person; "sea dog" an experienced sailor. "Every dog has its days" means to wait for your chance.