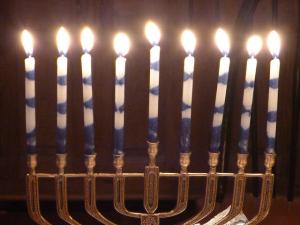 Now is the time when the light wanes, and darkness grows, and people come together during this time of year to reconnect with one-another.
When I look at our major holidays and celebrations during this time of year, I find in them this theme of light and illumination.
Lighting the Menorah
Though we were not Jewish, my mother always lit the Menorah.  I think because Hanukah marks the re-dedication of the Temple in Jerusalem, a moment of illumination and hope in the imagination of a people.
Ancient Jewish Historian Flavius Josephus writes in his book Jewish Antiquities XII:
"..And from that time to this we celebrate this festival, and call it Lights. I suppose the reason was, because this liberty beyond our hopes appeared to us; and that thence was the name given to that festival."
It is hard for me to think of traditions about light and darkness this time of year without remembering the beauty and faith expressed in the Jewish faith.
There are so many varied traditions at this time of year, the Winter Solstice, the shortest day and longest night of the year.  Most faiths, pagan or otherwise, share a tradition related to light and hope this time of the year, whether that tradition be a bonfire, a yule log, a tree of lights or something more secular.
Here in Salt Lake City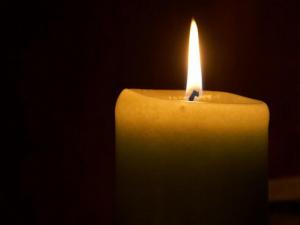 I know of one luminary tradition where schools provide paper-bag luminaries along the roadways of a cemetery, so that many people can drive through to remember, reminisce, and gaze upon the lights.
Light has often been a metaphor for the places in our lives that uplift us, and in the heritage of this time light holds our hopes for warmth during these darkest nights.
This metaphor is also spiritual; there is a spiritual illumination that comes from being with one-another.  Maybe that is part of what has created so many gathering traditions among many faiths this time of year.
Both themes of lighting candles or luminaries to hold light during the darkest night, and the gathering together around flames remind me of spiritual illumination.
Whatever beliefs we hold, it seems fitting to me that during this time of the year, when we seek illumination to help us face the longer nights, the difficult times of winter to come, that we come together and celebrate, share stories, revel in one-another's presence, and allow both all the lights we bring, metaphorical and actual, to hold the light for us during the darkness.
May the light keep you during the darkest night; whether that be the light of a candle upon your altar or the light of a loved one upon your heart.
So may it be.