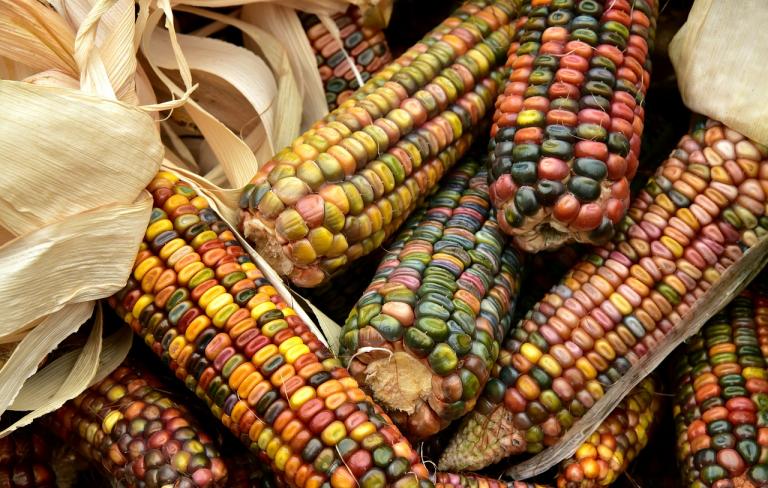 Happy Lammas, everyone!
Lammas is one name for the harvest festival at the beginning of August. In one version of the Wheel of the Year, it is the first harvest, the grain harvest, and will be followed by two more harvest festivals, Mabon, the fruit harvest, and Samhain, the meat harvest. Today, for the first time, the supermarket had the display of local produce. The farm stand I visit most often was bursting with different kinds of fruit and veggies today. There is corn everywhere I go. This festival is well-placed for my local environment. Yes, the harvest is beginning!
For me, Lammas is the time for reflecting on the Sacrificed God, the god of the grain, who is cut down and ground and cooked. The grain god rises again through yeast action in bread and in alcohol, rises again as part of my own living body, rises again as the grain that is planted for the following year. But before all that rising again, there first must be death. Cutting down, grinding between stones, baking in the oven, chewing, digesting.
Lammas is the time when I pause to remember that as an animal, I do not make my own food. I am completely dependent for my very existence on the living things that do make their own food: plants. (Even the food I eat that comes from other animals – eggs and dairy products in my case – ultimately comes from plants, as those animals also got all their substance from eating plants.) As a human being, as an animal, my life is sustained by eating the substance of other lives.
Requiring Death to Live
What does it mean to require death to live? How can I live ethically within the knowledge that my life requires the taking of other lives to sustain it? I don't think it is necessary to feel guilty about this, but I do think it is part of my ethical obligation to acknowledge it, to remember that I do not survive by force of will, or not only by that, but also by the material contribution of other lifeforms. I think it is also part of my ethical obligation to continually evaluate my consumption of other life. Am I ethically sourcing my food? Am I doing all I can to make sure that I am receiving my own sustenance in a way that is also sustainable for the planet? How much food am I wasting? What can I do to waste less?
The symbolism of the Sacrificed God helps with all of this by making the grain itself holy, sacred, personalized in a way. It is the body of the divine that I am eating whenever I eat, just as my own body is the body of the divine in other ways.
Gratitude
In her amazing book Braiding Sweetgrass, Robin Wall Kimmerer teaches that part of our ethical obligation as human beings is gratitude in return for the gift of life of the plants we partner with and eat. Lammas seems a good moment to reflect in gratitude for the gift of life that comes from the plants that sustain us. In my own spirituality, it is the moment for saying thank you to the Sacrificed God that I am alive because of his death.
In honor of Lammas, then, I am eating corn, our local staple grain, for every meal: spoon bread for breakfast, corn chowder for lunch, vegetable cornmeal casserole for dinner, and blueberry corn cobbler for dessert. The blueberries are from the abundance that my family and I picked on Saturday. I bought the corn and as many of the other veggies as I could this morning at the local farm stand. Today I am eating as ethically and as mindfully as I can, pausing at every meal to say thank you for corn – thank you for life!