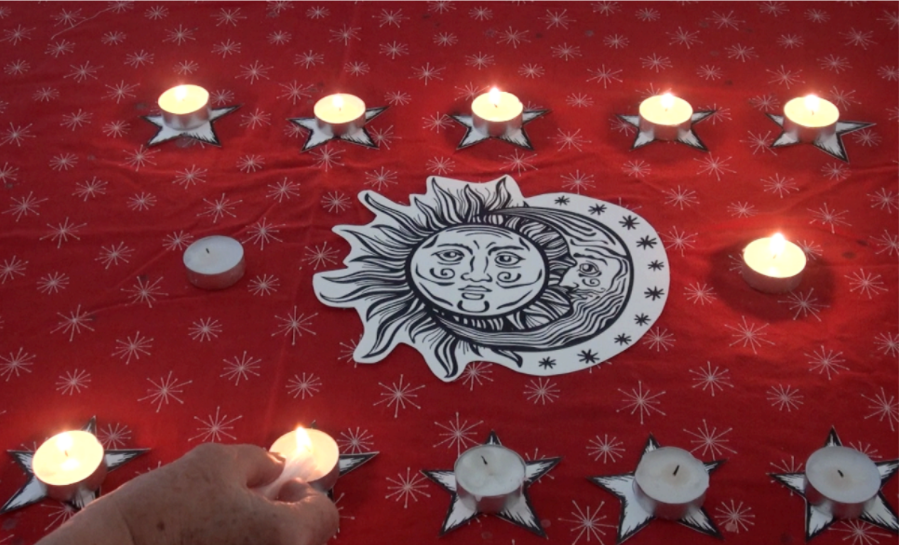 Last night the church sanctuary was aglow.   The A/V team was busy checking equipment.  The Winter Solstice speakers and Words for All Ages skit players were also busy finding props and blocking out movements. While gazing over the Christmas tree,  amid the poinsettias surrounding the pulpit stage, I took a pause to breathe before starting the rehearsal. 
This is my favorite time. The time of darkness.  The winter sun has "traveled" the solar analemma curve in the sky and now sits at the very bottom of its annual journey.  It will seem to hang there for three days before starting to make the climb back up again reaching higher and higher in the sky as the days lengthen and grow. 
Rev. Bruce T. Marshall wrote a piece in the 1980's that we really love and he graciously gave me permission to reprint it for the CUUPs blog. We have used it in our Winter Solstice celebrations many times over the years as a responsive reading. The person in the pulpit starts us off and the congregation responds with the words in bold. This year they take on additional meaning for me.
"We Live in Many Darknesses" by Rev. Bruce T. Marshall

 

We live in many darknesses. We are often uncertain. We are sometimes afraid.

 IN THE DARKNESS, WE LIGHT A CANDLE OF HOPE.

 

We all have sorrows. We have known pain. Each of us carries special regrets.

 IN THE DARKNESS AND PAIN, WE LIGHT A CANDLE OF FORGIVENESS.

 

We are sometimes lonely, and the world seems cold and hard.

 IN THE DARKNESS AND LONELINESS, WE LIGHT A CANDLE OF WARMTH.

 

We have experienced times of joy and happiness and have received numerous gifts of the heart.

IN THE DARKNESS, WITH GRATITUDE WE LIGHT A CANDLE OF THANKS.

 

We have known awe, wonder, mystery; glimmerings of perfection in our imperfect world.

IN THE DARKNESS, WITH WONDER WE LIGHT A CANDLE OF PRAISE.

 

We come together with our uncertainties, sorrows, joys, and wonder.

 WE BRING TOGETHER MANY CANDLES, MANY LIGHTS. MAY OUR SEPARATE LIGHTS BECOME ONE FLAME, THAT TOGETHER WE MAY BE NOURISHED BY ITS GLOW AND BEFRIEND THE DARKNESS.
This year as we put out the candelabra and candles to go along with this reading, I was thinking about how the COVID pandemic has affected holiday celebrations.  I know how it has impacted my family and friends.  I gazed over the empty pews.  I have no way of knowing who might come this year in person or attend as an online guest over livestream.  I have no certain way of knowing how they have been faring, what darkness they might carry.  I've noticed those missing at online events. I hoped they managed to make it to our online "Blue Christmas" service earlier this month to comfort those facing the first holiday season after the loss of a loved one, a divorce, or other difficult challenges. 
I do know that the darkness doesn't always have to be feared.  Sometimes it can be embraced as a time to lay fallow, to rest.  Just as the sun hangs low in the sky, it's ok to hang low sometimes.  Just as the sun seems to pause?  It's ok to take a breath and pause. It is a good time to turn inward to reflect, perhaps do some introspection. Think about what parts inside need release, what parts inside need encouragement to grow, and what parts simply need rekindling and restoring. 
I created a simple printable paper craft to share with Children's Religious Education and with the congregation.  One could use it with just Rev. Bruce T. Marshall's reading for a simple solo ritual.  Or perhaps pair it with Patti Wigington's sun candle ritual or write your own words to honor the seasons of the year. 
I offer it to you this year with a blessing as we mark the passing of the Winter Solstice…
As each night disappears into the dawn, let us remember it is in the darkness that we slumber and rest.  Let us not hurry too fast to leave it.  Let us welcome the peace of sitting in stillness. Let us release that which no longer serves us. Let us breathe deeply to nourish and light our candles within. Then, let us share our gentle glow with others in need of rekindling.
May it be so.