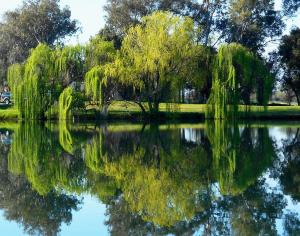 Spring conventionally arrived on Sunday, March 20. Yes, as Pagans, we held rituals and welcomed Ostara, or if you are Druid as I am – Alban Eilir. This is only the beginning though. Seeds, just like the spells we create, take more than uttering words. There is work involved, lots of work.
Spring is a time for renewal, a rebirth in many ways. Life begins again all around us. The leaf buds begin sprouting, pollen is active, and we allergy sufferers always know spring is coming before anyone else. I have a geranium in my basement that we brought in to protect from the cold. It will soon go back outside on the patio and bloom again showing its beautiful red flowers. There is a story and a meaning behind this plant that I will explain.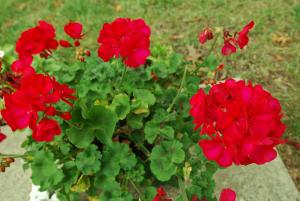 Two years ago, my parents saw two geranium plants at the curb in the cemetery.  They were still green, but the flowers were almost all gone. They took the plants home. Not even two weeks later, they fully blossomed with such bright beautiful red flowers. They continued to bloom all summer long. The plants seemed so strong at the end of September that my dad brought them inside. They held onto their flowers until Yule and stayed green almost the entire winter until around Ostara.
Suddenly, they looked sickly and then seemed to die. I told him that we tried but the winter was too harsh. Since these are outdoor plants, our basement was the next best thing. However, the basement is not finished and it too can be very cold.
At the end of March, he tossed them on the pile of leaves in my garden space, roots exposed. That year I had a terrible sinus infection and therefore I was behind in preparing my garden. When I finally was able to clear the pile of refuse to dig out the space it was around mid-May. I grabbed my shovel and the "dead" plants to bury them for compost. I noticed among all the dead branches one plant had a few green stems and some leaves at the bottom. It looked like what seemed to be new shoots beginning to sprout. I replanted it and placed it in the sun and Dad pruned all the dead stems. It looked like the Charlie Brown tree, with just one stem coming from it.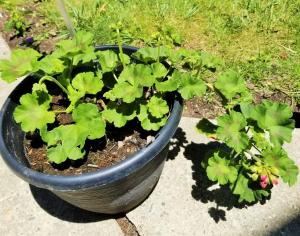 Within weeks, the plant was full with green leaves. Shortly after, it was in full bloom. The flowers would reach their peak and fall off; then new ones grew in their place. Each time it blossomed more than the last. It looked healthier this past summer than the year before when he rescued it from the curb. This plant held on with all its might.
It is currently sitting on the counter in our basement, full, mostly green and tall. We will return it back outside and prune it next month. We all have this chance for renewal and growth. Spring is the perfect reminder of this. The grass starts to turn green; plants that were hibernating bud, grow again. Do not throw away possibilities.
I recently led Sacred Wheel CUUPs' Ostara ritual at the Unitarian Universalist Congregation at Montclair, New Jersey, where I attend. During the rite, I asked the participants to reflect on three questions and to write down their responses. The questions included intentions/goals, new adventures, and what needs to be renewed in your life. I then told them to place the paper on their altar with any seeds they intend to plant. I suggested that in a few weeks, plant the paper with the seeds or seedlings.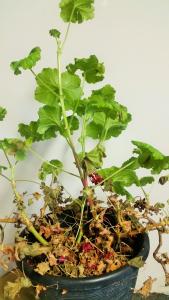 We have time to do work on ourselves just as we work on our gardens. Like plants blooming again, we can too. Don't give up on someone just because it seems hopeless. There is always hope. We need to be nourished and cared for as well. A little tender loving care goes a long way.
This is why the grounding and centering visualization my elder, the Rev. Foxxy (Sher) Pullen taught me works so well. After we learn how to visualize, one of the first exercises she teaches is the tree visualization. This guided meditation uses each element. First, we grow roots blooming into a tree, extending from both the top and bottom. We take in the nourishing water up through earth while releasing the negative energy with every exhale. We feel the sun's rays on our face and the air cleansing us. Mother Earth grounds us. Comparable to the trees, we too need to stay rooted. We have a connection with nature, and without nature, we cannot survive.
So yes, let's continue to celebrate spring's arrival and work on our gardens. It is time to prepare our seeds, mentally and physically. The progress will be slow. You may not see results at Beltaine; maybe you will see something by Litha and maybe not. Everyone's journey is different; yours may take much longer but at some point, the fruits of your labor will show.
See also: Ostara and commitment; planting seeds and growing with them