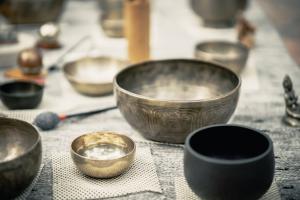 Recently, the Unitarian Universalist Congregation at Montclair, New Jersey's Mental Health Task Force held a Creative Arts Wellness Day. This was perfect timing for me. For the past two months my mom has been in the hospital and rehab interchangeably.
The task force held three workshops — Sound Rejuvenation, Fiber Fun and Soulful Collage simultaneously. I chose the Sound Rejuvenation which was a sound bath led by Scarlet Gorton, MDiv and MSW. Gorton is a sound practitioner who works with Tibetan singing bowls and gongs. A sound bath is basically what it sounds like. Your body processes all the sounds around you. It's a deep listening experience for your mind and body that can be very therapeutic. Usually those in attendance lie down and close their eyes. This time we were offered eye pillows.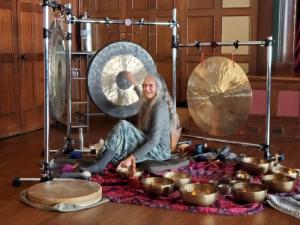 I had attended a few sound baths before and I know how beneficial they are, especially when you are stressed. It takes a lot for me to feel completely relaxed. The pool and the beach with the ocean's waves seemed to be the only ways I could deeply relax. At least that was what I thought. 
Each sound bath is different. Some use singing bowls and crystals as their main source, others use just gongs. At a UU Women's Retreat in 2019 the person used only gongs. 
I distinctly remember the first sound bath experience I had in 2017. It was at my congregation before I became a member. Woven Green performed in concert first, then followed that with a sound bath. What a profound experience that was for me.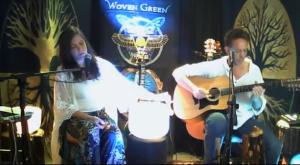 Woven Green is the husband and wife duo of Jim and Ashley Cash. They currently have three albums specifically for meditative use which they call the Soundscapes collection. Their style includes crystal and Tibetan singing bowls, Native American style flutes, guitars —acoustic and electric, and percussion. 
During the COVID-19 shutdown they offered a sound bath by Zoom to our congregation. Additionally, they offered at least another two more by YouTube opening it up to anyone. This really helped when everything seemed to be getting worse and stress was building up.
I learned from my elder the Rev. Foxxy (Sher) Pullen how to ground deeply and center myself. Grounding is to set your "roots" deep into Mother Earth and drop harmful energies replacing them with good energy. I do this on a regular basis and more so when stressed. Sometimes a really deep grounding is necessary. 
Sound baths are another way of grounding and probably better for people like me who struggle with meditation. With sound baths I get lost in the tones and I am transported elsewhere. Nothing from the present comes with me for that time period and some feelings are lost for good.
My mom has returned to the hospital from rehab  twice following her initial fall, so the tension has been thick. I kept having the feeling that the other shoe was going to drop. I still jump every time the landline rings. So keeping grounded is especially important and not at all easy. 
This time of year it's important to remind yourself to ground. With the holidays coming you may be around family you may not want to see. Stores can be busier and crowds can cause stress. To ground by using the tree method works very well. Visualizing yourself growing roots pulling in the water and dropping the negative energy, growing branches and getting the wind's and sun's nourishment. Running your hands under the water faucet is a less obvious and almost always available option.. These are just two ways to ground yourself. There is no right way or wrong way to ground, but some are more effective than others.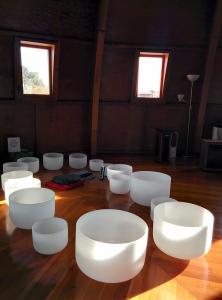 If you are able to attend a sound bath though, I highly encourage it. If you are unable to attend one in person there are a few online. The full effect is not there but enough of it is to work efficiently. The two that Woven Green held during the pandemic are still online on YouTube. There are probably others out there too if you put "sound bath" into your search engine.
That sound bath last month was what I needed the most. I went in that morning with my upper back and neck extremely sore. Afterwards, I had no pain at all. I knew I was stressed out and the pain I had was from it. I did not know that a sound bath would help as much as it did though. 
However, if this type of grounding is not helpful then try something else. Music in general could be grounding, it doesn't have to be calm and relaxing to do so. Sometimes something loud and vociferous could be just as grounding. 
There were two other workshops that day, which I mentioned earlier. One of those may be your source for grounding. Art can be very therapeutic as well. I know I took art therapy in college and learned about the benefits. What works for someone though may not be beneficial for another. Try something new and see what it may do for you. 
The key to this as with magic is to keep an open mind. Once you tell yourself it won't work and it's nonsense you just sabotaged yourself.