The sky is falling! Run, run, another technology change will be our doom!
We were already virtual
Much of our world has always been virtual. Stories around campfires, the Greek Classics, Shakespeare, the Bible, novels, movies – all transport us to the world of other people and often teach us something. It's a way to experience life through other's eyes or through an experience that represents a different reality. Technology simply makes these things more possible.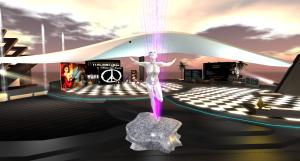 Italian Metaverse by ZZ Bottom on Flickr
Change is our normal
Technology drove the world into exponential change starting before 1900. Farming still feeds the world, but it went from 40% of jobs in 1900 to just 11% today. Manufacturing went from 32% to just 7% in 2020, and lost 4% in just the last 20 years. The pace of technological and social change on the graph lines is rising very rapidly.
People have a lot of difficulty coping with change. But we can't say, "Stop the world, I want to get off," and efforts to slow change down just lead to anger and division. Even groups like the Amish slowly incorporate some technological change into their environments.
I explain in my book, Preparing For The Future Of Work and Education, change is inevitable.  And as I explain in a coming January Patheos series on happiness, we hate everything about change, but we adapt. Those who don't adapt, bang their head against an immovable force.
To help New Generations conquer their future, I give the Preparing for the Future ebook away for free. It took me over a year to study courses and gather authoritative information. Its foundation is in information from MIT and World Bank, and articles from countless other authoritative sources on education and technology, plus my many years of working in several technology intensive fields.
New Generations need our support and perspective, and education founded on facts, not our doom saying.
"For I know the plans that I have for you,' declares the Lord, 'plans for welfare and not for calamity to give you a future and a hope.'" – Jeremiah 29:11
Leaders must understand our world
I'm not just a person who is very involved in leadership in religion and spirituality. I believe that to lead people we need to thoroughly understand our world. I have education and experience in several technology driven fields.
Technology is a gentle giant, but if you don't understand it, you fear it as some monster. It can be a monster when it causes job loss or requires more education to get a job. But every generation has new technology thrown at it, and has to learn how to integrate it into their lives so it is beneficial, not harmful.
"For God gave us a spirit not of fear but of power and love and self-control." 2 Timothy 1:7 ESV
Are we up to the challenges?
Virtual reality technology intrigued me for many years. I like it. In 2007 I looked at developments in the field. Physicians can operate surgical tools remotely with 3D virtual images assisting them. I've designed movie backgrounds and environments using 3D. It's very useful and fun.
Technology brings us together and opens new worlds to us.
On the controversial side, young adults can be intimidated by others on social media until they learn to control bullying. The good news is it makes it possible for me and others to include thousands of other writers and religious people in my circle and stay in closer touch with family.
Using streaming or virtual reality, mothers who are far away can be with their children who are hospitalized through video streaming or in 3D virtual environments. People can hold meetings in virtual spaces, use their real image or avatars to represent them and move around in those worlds without traveling to that location.
Haptic clothing can help people feel the virtual environment, and even shake hands and manipulate the environment. Scientists Created Holograms You Can Touch, with no glasses or headset required. You don't see that even in Sci-Fi movies. People can build and simulate cities in online programs with others from around the world. Imagine virtually traveling to places you normally could never go by using 3D virtual headsets to see marvelous things you would otherwise never see.
Virtual Reality assists much of our world in positive ways that make unimaginable things possible. Most are good but like everything it presents challenges and can be misused.
"Every good and perfect gift is from above, coming down from the Father of the heavenly lights, who does not change like shifting shadows." – James 1:17
Technology assists us, doesn't replace us
To illustrate the helpful nature of this new technology for New Adults, in 2007 I wrote a novel about a young man who was hurt in love, so decided he would immerse himself in a virtual world and never again love. The story explored whether a virtual relationship was a substitute for one in the real world. Through that virtual world, two people were transformed, and went back into the real world able to pursue a real-world relationship. The story presented realism.
I'm just finished writing a short story about different kinds of intelligence in humans, AI, and possibly aliens. AI is great at math and finding information. It uses and creates rules but is unable to work very well with the variability of life as opposed to humans. It helps to understand the limitations of technology. But there are other types of intelligence than IQ, represented by the alien in the story.
Technology assists us; it doesn't replace us. Much about life stays unaltered. I like the old Everly Brothers song, That's Old Fashioned, about relationships and holding hands. My wife and I still hold hands. Technology doesn't change the need to hold hands but haptic interfaces can make it possible over great distances, even in space.
We learn, we adapt, we conquer. Humans are up to the challenge of variability and change.
The Metaverse
The metaverse is simply the growing development and use of technologies which mostly already exist in some form to augment our current reality for productivity, and to take us virtually into other real worlds or completely artificial worlds. They can also augment our current world. It's largely about visual communications.
"The metaverse is a hypothesized iteration of the Internet, supporting persistent online 3-D virtual environments through conventional personal computing, as well as virtual and augmented reality headsets. Metaverses, in some limited form, have already been implemented in video games such as Second Life."  Wikipedia article
Candidly, it's not for everyone to use every day, but most people will take advantage of many of its offerings.
IFTF presents "Welcome to the Meta-Meta-Metaverse"
Takeaway
I have a picture of me sitting on a couch reading a newspaper with our first daughter sitting on my head. Oh, look, here it is: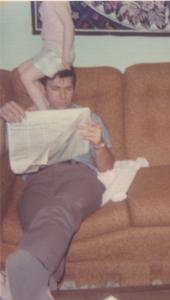 Picture by and property-copyright © of Dorian Scott Cole
Yes, we do get immersed in reading, communicating, watching, studying, playing, doing hobbies and sports, careers, and we allow these to prevent us from spending time with the people around us. That's always our challenge and likely always will be. We always have to learn how technology will affect us, and adapt.
I appreciate that as we get older we find it more difficult to adapt to change, and I know many of us won't accept change even if it lands on us with both feet – that's a given. For example, I don't fly model drones, having learned from a flight simulator computer program that I always crash land, even though I haven't had a car crash since 1985. Technology will continue to advance, and change is always coming.
Change isn't our new normal – it's always been our normal throughout history, even in religion. It's up to us whether we cower in fear and stubbornly refuse to accept change, or we boldly move forward with change knowing that God is here for us.
"When you pass through the waters, I will be with you; And through the rivers, they will not overflow you. When you walk through the fire, you will not be scorched, Nor will the flame burn you."
""Do not call to mind the former things, Or ponder things of the past. Behold, I will do something new, Now it will spring forth; Will you not be aware of it? …"
Selections from Isaiah 43
_________________________
Our answer is God. God's answer is us. Together we make the world better.
– Dorian