Jobs, family, meaning and purpose, etc.
The "Great Resignation" has shown that many people are deeply unsatisfied with their jobs, which historically are often called the "Rat Race."
The Apostle Paul had an interesting take on this:
"Not that I speak from want, for I have learned to be content in whatever circumstances I am. I know how to get along with humble means, and I also know how to live in prosperity; in any and every circumstance I have learned the secret of being filled and going hungry, both of having abundance and suffering need. I can do all things through Him who strengthens me." – Apostle Paul in Philippians 4:1-13 (NASB)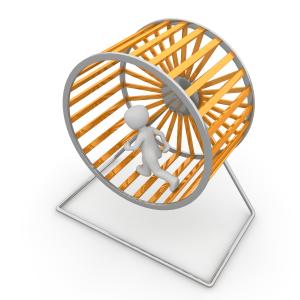 The Rat Race is "A way of life in which people are caught up in a fiercely competitive struggle for wealth or power." "… an endless, self-defeating, or pointless pursuit," on Wikipedia.
Job satisfaction
I'm not a person who can do repetitive tasks for long. My mind goes elsewhere and sooner or later my work deteriorates. I learned this in a factory making widgets as fast as I could day after day. There has to be a creative element in my work or I'm not present. Although I do well at sweeping floors for a few minutes.
I used to think that work had to be deeply engaging or people would hate it. Not so. Many people want work to earn a paycheck, even if it's mindless work, and then go home and forget it. This gave rise to the old expression, "I work to live, I don't live to work."
For many it's the opposite. Their career is very important to them. It's as if they were born to do a certain type of work and if they can't their life is meaningless. I knew linemen who worked in ice storms to restore electricity, who would do nothing else. They loved working outside and electrical work.
Both groups (mindless or purposeful career) found satisfaction in their work. The loss of a job can have a similar effect as losing a spouse, it's that important. Work has meaning to us in many ways whether directly or indirectly. During financial downturns suicide increases among those who lose their jobs and are unable to support themselves and their families. Financial crisis caused 5,000 suicides.
Without purpose people wither
People who retire often wither away and die within a few years, lacking a purpose to go on. Often when the children leave home people suffer from the "Empty Nest Syndrome." It's not just the pain of separation – it's the lack of purpose.
How to Cope With Empty Nest Syndrome and Be Happy Again – Life Hack.org.
Similarly the Midlife Crisis can be equally devastating for those who conclude their work or life is meaningless to them. It's "an emotional crisis of identity and self-confidence that can occur in early middle age." I can relate. I worked many technical jobs to support my family, all the while trying to work with people.
What Are the Signs of a Midlife Crisis? Midlife can be the unhappiest time in a person's life
– VeryWell Mind
As it turns out, studies show that happiness sags for everyone in midlife, and grows again in future years.
Finding meaning and purpose
Generally finding meaning and purpose is found in the tasks at hand that the world presents to us. Whether it's the job or the pursuits that come in our free time, meaning and purpose are not usually found through self-reflection (looking within) and grand schemes to take over the world. For most it boils down to: Look around, see a need, take care of it.
Take Home Points
Our happiness depends mostly on our being able to find and pursue meaning and purpose in our world, as the Apostle Paul and others did. This purpose might be providing for our families, or a career that satisfies us. If we set our sights on getting material things, we're less likely to achieve what we want. If we believe we can't achieve these things, we despair and our life is miserable.
Sometimes we have to do jobs we don't like to support our families, and find other ways to pursue our dreams.  But never give up your dream. Follow your dream step by step, steadily achieving what you want.
Next in the series
Next in the series: Depending on employers and the economy
___________________
Our answer is God. God's answer is us. Together we make the world better.