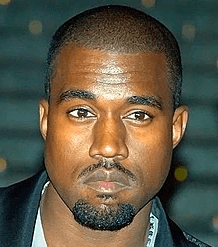 Go take a listen for yourself. Earlier today rapper and cultural touchstone Kanye West dropped a new album Jesus is King. What makes this album so odd/inspiring/outrageous/head-scratching is not the music, but Kanye himself. Over the years, as Kanye has continuously flittered between the fine line between innovation and eccentricity, headlines and controversies have been ever-present.
So when West recently declared that he converted to Christianity and that he would only make gospel music going forward, the Evangelical world raised a skeptical eyebrow. When he followed with the creation of a non-traditional Sunday Service, he gained even more skeptics and admirers. He's no stranger to controversy. He's got a past. Mainstream Christianity is skeptical about whether he's genuinely become a follower of Jesus. All that leads to the comparison to Saul of Tarsus. Think about it for a minute. Here's Saul's own words:
For you have heard of my previous way of life in Judaism, how intensely I persecuted the church of God and tried to destroy it. I was advancing in Judaism beyond many of my own age among my people and was extremely zealous for the traditions of my fathers. Galatians 1:13-14
What was the response of the early church when they heard of the radical conversion of this Christian killer? Here's what Luke records:
When [Saul] came to Jerusalem, he tried to join the disciples, but they were all afraid of him, not believing that he really was a disciple. Acts 9:26
For the early church, the skepticism was whether or not Saul faked his conversion in order to gain access to the church leadership in an attempt to destroy it. It was only after some time had passed that Saul's conversion was beyond doubt and he would go on to write almost half of the New Testament. No one is expecting Kanye West to go on to write epistles, but his rap songs, music and influence can influence millions of people for Jesus that will never step foot inside of a church building. But is he really a Christian? Has he genuinely converted, or is this a publicity stunt? Can a Taylor-Swift-interrupting, Kim-Kardashian-marrying, Trump-supporting, Yeezus-singing media icon really follow Jesus? Could a Stephen-killing, Christian-arresting, Pharisee-loving Saul of Tarsus ever turn to Jesus? It's already happened once, here's to praying it's happened again. To his credit, Kanye West knows acceptance by the mainstream Christian community won't be easy, especially with his past. In his new song Hands On, he raps:
Said I'm finna do a gospel album
What have you been hearin' from the Christians?
They'll be the first one to judge me
Make it feel like nobody love me
They'll be the first one to judge me
Feelin' like nobody love me
Told people God was my mission
What have you been hearin' from the Christians?
They'll be the first one to judge me
Make it feel like nobody love me
Evangelical leader Russell Moore wrote a fabulous article several years back entitled: The Next Billy Graham Might Be Drunk Right Now. Building from the conversion of Saul of Tarsus into the Apostle Paul, Moore writes:
The next Jonathan Edwards might be the man driving in front of you with the Darwin Fish bumper decal. The next Charles Wesley might be a misogynist, profanity-spewing hip-hop artist right now. The next Billy Graham might be passed out drunk in a fraternity house right now. The next Charles Spurgeon might be making posters for a Gay Pride March right now. The next Mother Teresa might be managing an abortion clinic right now.
We shouldn't be surprised if the next great evangelist doesn't come from the ranks of Sunday School classes and VBS summer camps. It happened once with Saul of Tarsus. Let's pray it happens again. Either way, let's all commit to pray for Kanye West in his new-found Christian faith. And go listen to Jesus is King.
If you'd like to connect and engage with more of the content I'm working on, be sure to like my church Facebook page. You can also find me on social media: Facebook, Twitter, Instagram and YouTube.