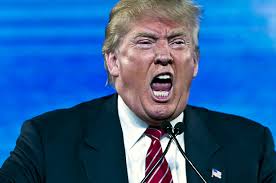 Disruption
Donald Trump is disrupting the status quo with his abrasive rhetoric. I can't share any quotes from him because I can't find one worth sharing. I do observe, however, that he is disrupting the "good ole boy system" of politics and he's getting lots of free press and gaining support, not because people agree with his abrasive stance, but mostly because people are tired of the perceived insider system in our government. He knows how to work people's emotions for his personal agenda.
In the church, we can't take sides politically or we will lose the tax exempt status given by the IRS. We can't express our opinion in an official way as an organization. Maybe this isn't our Christian duty or delight anyway. Shouldn't we, as Christian leaders, teach Biblical principles and allow members to make their own decisions? Are we leading by disrupting? Are we using the power of God for our own bully pulpit?
Leading
Leading is influencing. What's the duty and delight of a Christian leader in the church? Is the pastor the spiritual leader or the CEO? We have adopted a CEO "BOSS" model for pastors that creates a conflict for pastors and creates confusion with members.
In the United Methodist Discipline, the pastor is charged with ordering the church. In the PCUSA, the pastor is a teaching elder and one vote among ruling elders of the Session. Neither of those give the pastor the position of CEO, as I see things.
Nevertheless, the pastor holds a unique position of influence as spiritual leader of the flock. This is a critical place of influence which demands very high leadership moxie and much wisdom and discernment.
Group Process
When I lead group planning sessions, I'm very aware of what's going on in the group. I have defined and shared a process to follow to achieve specific objectives and specific deliverables for the particular session. It's a journey and a process of discovery, discernment, and decision making. It's building a New Architecture of Engagement™.
Taking on a bully pulpit, the Donald Trump model only weakens the system and intimidates followers who are only against something and not in support of anything. It feeds dysfunction and creates an angry posture in the culture that can and will eventually turn against something or someone else, even the leader.
Righteousness is becoming a posturing for self-righteousness. In the name of God, are we taking on a personal agenda as leaders? Or are we encouraging personal growth, learning, spiritual discipline, and building community?
Duty and Delight
What's the duty and delight of the Christian leader? Are we, in fact, leading with emotion and empathy, rather than with thoughtful, spiritual presence?
The calm, conscious, present, non-emotional leader influences the group, any group, in more profound ways than stirring up emotions of the group for a personal agenda.
There's no wonder that in many churches the picture is like inmates taking over the prison.
Poor leadership is manipulation. It's crucial that Christian leaders check in to be sure that others don't see us as representing God. Often church members so see ministry staff as representing God…that's a slippery slope, indeed.
Tomorrow, the opposite perspective…the "Earl Grey Pastor": doing nothing is not the answer.
Please comment below.
(c) 2016 Hugh Ballou. All rights reserved.
* Affiliate links benefit SynerVision Leadership Foundation