I watched as they took my guy away for what was supposed to be a simple procedure. I was a few steps back. As they wheeled his bed into the procedure room he started to convulse, or what looked that way to naive me. I stood there in shock as I heard a nurse say, "Uh-oh." The doctor calmly adjusted monitors. I prayed at this moment she was more than just a pretty face; all her training would now kick into that second nature gear. Walking away from that door, not busting it down and taking over, as if I had something to offer, was not what I expected this morning would hold. Sitting alone in a waiting room of tears waiting for the light in my world to return. Letting go. Letting God. Putting our kids in God's hands is so much more difficult than I ever dreamed.
An hour later that round buzzer they hand you finally buzzed. You know this buzzer. It's the same one you get at The Outback or Olive Garden restaurant when your table is ready after about the same amount of wait. The buzz. It vibrated in my hand the entire long walk to the new part of the building where I had to find my guy in the recovery room. I rounded the corner to find him surrounded by nurses.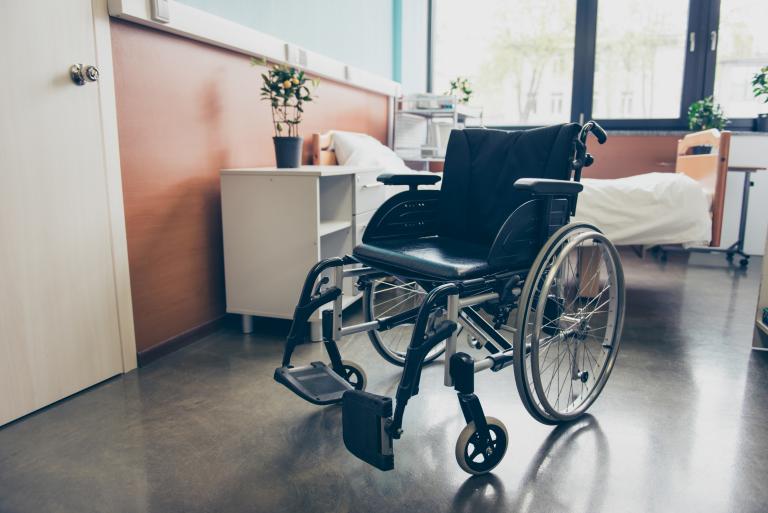 There he laid in his bed, holding court with the nurses, telling stories like nothing had happened that day. Are you kidding me?! I have been peeling fingernails and on my knees to God in tears for an hour only to find him here enjoying the nurses attention like he was king of the world? I asked about the convulsing. A cough, a silent coughing spell that happens when undergoing light anesthesia occasionally.
"So we fix our eyes not on what is seen, but on what is unseen, since what is seen is temporary, but what is unseen is eternal." 2 Corinthians 4:18NIV
Putting this guy in God's hands, it isn't all that I expected it would hold. I would not have chosen this path, not at all.
I think I've been clear before, my path would have included a leisurely stroll through the Nordstrom shoe department, not a year plus stay in the children's hospital with no end in sight. But, I have never met the kind of people in the shoe department like we have come across on the path we are on now.
I am not one to say God deemed this road of sickness. If I could read God's intentions, well, he wouldn't be much of a God, would he? But, here my guy is, sick. And we find him drawing people in like never before. He has a light within him that pulls people towards him. I round the corner often to find him surrounded by nurses, doctors, all of the hospital staff, people in which we never would have imagined growing close. God is doing things with this path of sickness.
Even through meltdowns, his and my own, people still come near. We are not one precious ray of sunshine when you spend days without sleep in the hospital setting. Somehow, people still come near to us, to him, even when there is yucky, ugly, truly difficult days on end. He has a pull that God has given him to bring them close, to try to understand our special needs world. God does things when people are close, even in the yucky stuff.
He shows me how my boy is shining like a thousand stars right here within one building. He reflects God's glory, not his own. People of all walks of life know his name, surround him, listen to his questions, listen to our translations. He asks about their days, their lives, their story. He brings them in. And, God is doing something here.
I don't know where this road is going to lead. Dang, it hurts to think too long on it. And, when I do I want to pull back the reigns from God, take back that control and yank my guy right out of his hands, if I'm really honest. But, then God shows me something happening within the hurt. Something bigger.
My husband and I are parents of all boys. One of whom is a young adult with both physical and intellectual disabilities. I don't always know what I'm doing as I parent these guys. But what I do know is God is teaching me big things through our trials that I probably would have never learned without them. You can find more from me at www.mostlyeandme.com, on Facebook, and on Twitter @mostlyeandme.